SABMiller May Close South Sudan Unit Amid Currency Shortage
Okech Francis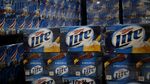 SABMiller Plc may be forced to halt operations in South Sudan unless it's able to access foreign currency and fuel needed to run the business.
"If we don't get access to raw materials and the lack of hard currency continues, we may do so, but we are saying not now or in the near future," George Nisbet, finance director at Southern Sudan Beverages Ltd., of SSBL, said by phone Saturday from the capital, Juba.
Fighting between government and rebel forces that erupted in South Sudan in December 2013 has left tens of thousands of people dead and more than 2 million displaced, according to the United Nations. President Salva Kiir and rebel leader Riek Machar have failed to reach an agreement on ending the conflict despite months of negotiations.
SABMiller, the world's second-biggest brewer, built the first brewery in South Sudan. The manufacturing began producing brands including White Bull and Nile Special in 2009. Africa accounts for about 31 percent of total revenue, according to data compiled by Bloomberg.
SSBL is scaling back operations and sending some staff on leave as it tries to deal with the shortages, Managing Director Carlos Gomez told reporters during a tour of the company's facilities in Juba. The company depends entirely on imported raw materials like diesel to run its machines and foreign suppliers are reluctant to extend credit further, he said.
Nervous Suppliers
"Our suppliers they have been very good and have supported us over many years, but our credit to them has in some cases been beyond the limit and there is no appetite from them as foreign suppliers to continue taking risk by extending credit to us," Gomez said. "They are nervous because of the possibility of us not being able to pay them in forex."
Inflation has surged in South Sudan because of the conflict. Consumer prices jumped 61.2 percent from a year earlier in June after declining 1.3 percent in January. While the official exchange rate has remained stable at 2.95 per dollar, on the black market it changes hands at about 12.5 per dollar from 3.5 in January.
SSBL employs 405 staff, more than 100 casual laborers and directly services 3,000 customers, according to Gomez.
While the company has been able to place people on enforced vacation, "if there comes a time that this issue is not resolved quickly, the leave will run out and then we shall have to make more difficult decisions which we really don't want to do."