Car Reviews
The 2016 Volvo XC90, a New SUV, Is Safe, Square, and ... Sexy?
Volvo is banking a lot on this new SUV revamp. The bet looks likely to pay off
By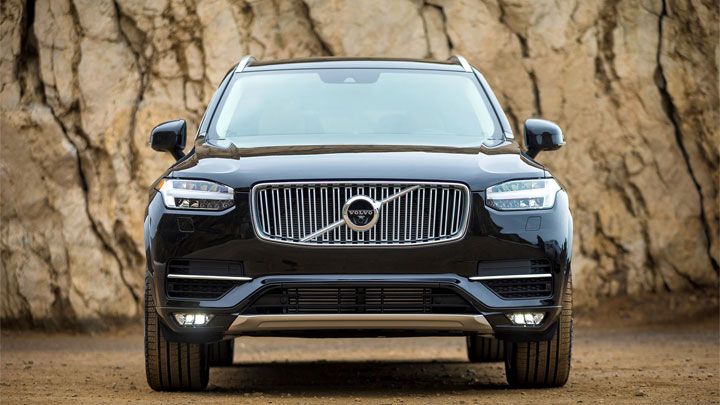 Most of the time, when you need a technology tutorial, it's with a new computer or an extensive sound system.
For cars, I figure I don't need one.
So I was skeptical when company execs wanted to send someone with the 2016 Volvo XC90 T6 they delivered to me last week in New York. We need to have someone walk you through our new systems, they said. Oh brother, I thought.
Good thing they insisted. 

Otherwise how would I have known how to use the automatic driving system that steers, accelerates, and brakes for me in tangled traffic? How would I have known to use the parking system that wedges the sizeable car into the most infinitely small East Village spaces you can imagine—places even my kid brother wouldn't attempt in his little Citroen. 
With the XC90, believe me, you'll feel the same way I did. You're going to want all the upfront tech help you can get. If you're not lucky enough to have someone patient walk you through everything, you may end up feeling like a caveman in a physics class.
The Big One 
The $48,900 Volvo XC90 is the most important car the Gothenburg (Sweden)-based company has produced in two decades. Volvo has a lot riding on this effort: It's the first of a slew of brand-new models Volvo says it will bring to market by 2019 and it's the first model Volvo has produced under its new China-based parent company, Geely. You can insert your low-quality, China-made joke here—a lot of people really care about the perception of Chinese-made products, especially those who are buying products that are considered luxury items.
So this SUV needs to make a good first impression.

Virtually every luxury auto brand—even such longstanding holdouts as Bentley—are making at least one SUV model. Many are making several. The segment has continued to grow steadily for a decade.
But Volvo hasn't had a new XC90—or any true SUV—in more than a decade. Even consumers who knew and loved Volvo were forced to defect to other brands such as Audi and BMW if they wanted a fresh SUV. That led to stagnated sales at Volvo while Audi, BMW, Land Rover, and Mercedes-Benz offered exciting and posh new SUVs like the Q7, X5, Range Rover, and GL, respectively.
It stands to reason that Volvo would have been hyping this thing for the past year. It's the clean-sheet redesign of an entire segment entry. And its success or failure will set the tone for the seven models Volvo will release over the next half-decade—replacements for the current range and some new hybrid variants. 

Seductive Swede 
On to the car! I like it. As far as looks go, I like its bold erect grill, those T-shaped LED headlamps, and the 21-inch rims (19-inch ones on the base model, and 22-inch rims are available for an additional $1,000). I appreciate the still-square shape of the side windows (this is Volvo, after all) and the long and tall bright red tail lights flipped up on each side of the back. Very handsome. It is big: three rows of seats, but it's still nearly 9 inches shorter than the Cadillac Escalade. The XC90 is potentially tricky to park because of its challenging size, but those cameras and self-parking help entirely). The look comes as a welcome change to the Audi/BMW/Merc revolving-door styling of SUVs we've been seeing lately. It makes me think of those totally square Volvo wagons my friends in Oregon drove during high school. Square but so cool.

Inside, it's apparent that Volvo has taken every opportunity to prove this is a genuine Swedish product. (Maintaining a close connection to the company heritage is crucial for luxury brands.) This is evidenced by the latte-hued wood panels across the dashboard, doors, and console, by the sunroof that spans most of the roof, and by the tiny Swedish flags sewed into the shoulders of the front seats. The craftsmanship in this Scandinavian sanctuary equals, if not exceeds, all of its higher-priced competitors.
When you first slide into the driver's seat, you'll notice the tablet-sized screen in the middle of the dash. That is the god device. It controls all the new technology Volvo has flogged for a year: the four-zone climates, power heated and cooled seats, parking cameras galore, Bluetooth, the Bowers & Wilkins premium sound system ($2,500 extra), navigation, and so forth. I predict you'll never use all the assets contained therein. They seem endless. 
I'm partial to the German model that uses knobs over touchscreen technology in cars because I like tactile feedback, rather than having to look down at some big iPhone screen every time I want to change the radio station. It feels distracting, even on a big 9-inch screen like this one, which allows you to flip pages as you would on a tablet.
In any event, you might then notice the "ignition," a crystal knob protruding from near the center armrest. You twist it to start and stop the engine. Yes, it's weird. Five drive modes (including comfort, eco and off-road) are controlled by a little hammered-silver roller scroller nearby. The shifter is right there, too, although the indicator that tells whether you've shifted into drive or reverse is situated behind the spokes of the steering wheel in tiny white lettering. (A more obvious location would have been better.) All vehicle functions are accessible via voice command, steering wheel thumb pads, and/or that touchscreen—which, by the way, is conveniently calibrated so you don't need to remove your gloves in winter in order for it to register your touch.
The ride height, as you might expect, lends total command of the road, allowing for what feels like an unlimited perspective, perched high above the traffic. There are virtually no blind spots. Riding in it feels like riding in something with the dimensions of a shoebox framed only by metal bars: Space, air, and light flow through it uncontested.  
I did employ that back-back third-row seat several times, as various friends sat there to offer their take. Which was: "It's doable." But tight. Better for dogs and sporting equipment and 9-year-olds in time out. If you fold down the rear seats, on the other hand, you'll feel like you've got the Great Plains back there. It's miles (or 85 cubic feet) of unobstructed flat space. I did not use the integrated child booster seat, though I'm sure many will.

Capable but Cautious
I'm keeping the driving impression part of this column for last because I expect that most buyers of the XC90 will be purchasing it for other reasons before they consider pure driving performance.
It's still important for me to tell you that the XC90 AWD is not fast. Well, it is on paper. Zero to 60 miles per hour in 6.1 seconds is good; it beats a base Audi Q7 by more than one-and-a-half seconds. But it certainly doesn't feel fast. The 316 horsepower pushed by a four-cylinder turbo- and supercharged engine lacks major torque. Moving through early gears, it feels pedestrian. At one point, as I entered the freeway from an on ramp, I floored the car and nothing happened. I almost looked down at my foot to make sure I had pushed the correct pedal. It was a momentary lag, but it was noticeable and frustrating.
As I said, I was driving the T6 model. Volvo will also offer a hybrid version—and, in Europe, a diesel version—although I applaud the natural efficiency of this base version. The XC90 gets 20 miles per gallon in the city and 25mpg on the highway, helped along by the fact that the steel safety cage of the car is more than 200 pounds lighter than its predecessor.  
The steering, however, feels lovely; you might even forget you're pushing a truck. And the myriad safety prompts—it will indicate if a cyclist is in your drive path, if you're about to hit a passing car, or if you might rear-end someone in front—stop just short of being overbearing. (Or worse, annoying.)
In fact, I can say point-blank that nothing about this car is annoying, not even the twist-top start/stop thing. It's odd, but it works. This, to my mind, is the Volvo's greatest strength in this luxury market it's trying to enter. It's different from everything else in the segment, and it's distinctly Scandanavian.
If the XC90 has any bearing on it—and it surely does—Volvo 2.0 is off to a very auspicious start.

Before it's here, it's on the Bloomberg Terminal.
LEARN MORE