Blue Skies in Beijing for Parade Mean Steel Mills Face Curbs
Bloomberg News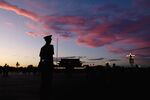 Steel output in China will be disrupted next month and September as mills around Beijing are ordered to curb production to ensure clean air and blue skies for a parade to mark World War II and a sports event, hurting iron-ore demand.
As much as 6 million metric tons may be cut, more than was lost last year when similar curbs were used for a global summit, according to Xu Xiangchun, chief analyst at Mysteel Research, citing talks with policy makers and mills. The government plans measures to ensure the air quality, according to an official at the Beijing Municipal Environmental Protection Bureau, who declined to give her name, in line with local practice.
China is the world's largest steelmaker and the clean-air initiative will cover Hebei, the biggest producing region. The move risks spurring volatility in iron-ore prices, Macquarie Group Ltd. said in a report, drawing parallels between the plans, which it dubbed "Parade Blue," and measures at last year's APEC meeting. Steel demand is contracting in China as growth decelerates, hurting prices and mills' profitability.
"Almost all the steel mills will be hit in Hebei, Beijing and Tianjin," Xu said in a telephone interview on Thursday. While a final version of the curbs hasn't been concluded, the impact will probably be larger than for APEC, he said.
Mills in Hebei produced 185.4 million tons of crude steel last year, 23 percent of China's total, according to Antaike Information Development Co. Monthly output in the province averaged 16.4 million tons in the first half of this year.
Bull Market
Benchmark iron-ore prices advanced into a bull market this month even as commodities from oil to copper fell. While prices gained more than 20 percent from a July low, they're down 25 percent in 2015 as steel demand in China drops and low-cost supply rises in Australia and Brazil, the top exporters. Ore with 62 percent content delivered to Qingdao fell 4 percent to $53.41 a dry ton on Friday, the most since July 8, according to Metal Bulletin Ltd.
"Cuts to China's steel output will weaken iron-ore demand and may cause prices to fall as China is the largest consumer," Xu Ke, an analyst at Huatai Great Wall Futures Co. in Shanghai, said by phone. "Iron ore hasn't been performing well this year, so the reduction in steel production will worsen the outlook."
Tiananmen Parade
On Sept. 3, China's leadership will host the parade in Tiananmen Square to commemorate the 70th anniversary of Japan's surrender. Before that, Beijing will host the world track and field championships from Aug. 22 to Aug. 30.
For the Asia Pacific Economic Cooperation forum last November, which was attended by Barack Obama and other leaders, the municipal government announced a week-long break, shutting schools, limiting cars on the roads and encouraging travel agencies to offer discount vacation packages. Crude-steel production in Hebei contracted 16 percent from October.
For more, read this QuickTake: Choking China
"Measures similar to those adopted before the APEC summit last November will be taken, which means steel mills near Beijing, particularly those in Hebei province, will probably be forced to shut down," Macquarie said in the July 27 note.