State Department Releases Next Load of Hillary Clinton E-Mails
The release is likely to draw scrutiny from the media seeking new tidbits and Republicans looking for ammunition.
By and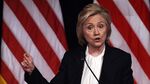 The State Department on Friday posted online more than 1,300 emails that Hillary Clinton sent and received on a personal account while she was secretary of state. 
Communications with former department officials and political allies are expected to make up the bulk of the several thousand e-mails. None is anticipated to contain material directly tied to the Sept. 11, 2012, attacks in Benghazi, Libya.
Instead, these e-mails are anticipated to date from an earlier period in Clinton's tenure as secretary—late 2009 to early 2010. Even so, they will likely draw intense scrutiny from the media, Republicans and others seeking any new political ammunition or gossipy tidbits about the 2016 Democratic presidential front-runner.
Friday's posting represents the latest in the scheduled rolling release of "non-exempt portions" of about 30,000 e-mails that Clinton kept on her private server that a U.S. District Court judge has ordered to be made public. 
Clinton had used private e-mail addresses and a private e-mail server to conduct government business while serving as secretary of state from 2009 to early 2013. Last December, Clinton and her lawyer turned what they deemed the professional portion of those electronic correspondences to the State Department to comply with open-records laws.
That court ruling to make public most of the e-mails came in response to a Freedom of Information Act lawsuit filed by an investigative journalist. The "non-exempt" portions of Clinton's e-mails are to be released on a rolling basis every 30 days, and completed by the end of January.
A first batch of about 1,900 e-mails—or 3,000 pages—was released under that court order on June 30 and touched on a wide range of topics. Overall, they reflected an image-conscious Clinton and her staff early in her tenure as secretary of state, showing some of the ins and outs of being a Cabinet member who happens to be named Hillary Clinton.
The e-mails will continue to be released by the State Department in chronological order, so Friday's batch should pick up where the last one left off, a period from late 2009 to early 2010.
Friday's release isn't expected to involve material directly relevant to an investigation by a Republican-led House committee into the 2012 Benghazi attacks, in which four Americans were killed, including the U.S. ambassador.
The department already made public 296 e-mails that it had determined to be related to the 2012 Benghazi attacks, and had given them first to the committee.
In a separate matter this week, the State Department turned over 8,254 pages of new Benghazi-related documents that aren't Clinton e-mails to the committee. The panel is starting to review that information.
That pace of State Department document production had been a bone of contention between the department and the House Select Committee on Benghazi led by Representative Trey Gowdy, Republican of South Carolina. Tuesday's delivery of the documents appeared to bring some calm to the situation, for now.
Word also came this week that Clinton will appear before Gowdy and his Benghazi committee on Oct. 22, according to a panel announcement.
In a statement, committee spokesman Jamal Ware said members will question Clinton about Libya, Benghazi and her e-mail arrangement as secretary, as it relates to the scope and jurisdiction of the committee.
House Speaker John Boehner, in a Tuesday news conference, renewed his call for Clinton to turn over her private e-mail server to investigators, pointing to what he said is evidence refuting her claims that she didn't have classified e-mail.