Russia Cuts Rates for Fifth Time as Slump Contains Inflation
Anna Andrianova and Olga Tanas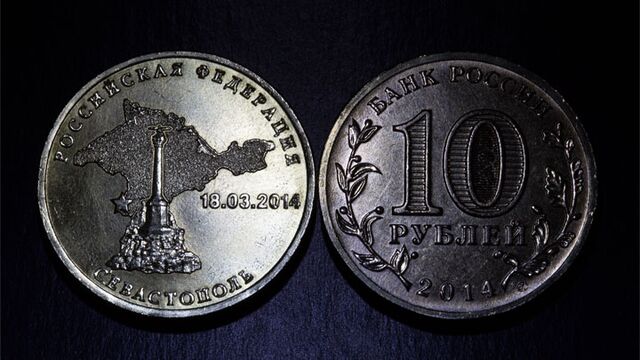 Russia's central bank reduced interest rates for the fifth time this year and dropped its pledge to continue easing as inflation decelerates, signaling a less certain policy path after the nation's economic slump worsened.
The one-week auction rate was lowered by 50 basis points to 11 percent, according to a statement on Friday. Twenty-seven of 35 economists in a Bloomberg survey predicted the move, with five forecasting no change. The ruble extended losses after the announcement and weakened past 61 to the dollar for the first time since March.
Governor Elvira Nabiullina is keeping the focus on Russia's first recession in six years as inflation slows and a potential U.S. rate increase risks sapping cash from developing nations. While continuing with their seven-month easing cycle, policy makers backed off their vow last month to "be ready" to deliver more reductions as price growth decelerates further.
"The language on the central bank's future strategy has become less committal," Clemens Grafe and Andrew Matheny, economists at Goldman Sachs Group Inc., said in an e-mailed report. "We see this more of an acknowledgment of the current additional risks originating from oil prices than a signal that the central bank thinks the rate cutting cycle should either pause or even end."
Forward-rate agreements are indicating 28 basis points of decreases in borrowing costs during the next three months, up three basis points from Thursday.
Ruble, Interventions
The decision is "taking into account that the balance of risks is shifting toward considerable economic cooling despite a slight increase in inflation risks," the central bank said in the statement. "Consumer-price growth will continue to slow amid slack domestic demand."
The move shows the central bank is looking past pressure from the ruble, which resumed losses a day after the regulator suspended foreign-currency purchases to replenish reserves this week. The ruble's loss of more than 19 percent against the dollar has been the world's worst performance since May 13, when foreign-currency interventions began.
The Russian currency traded 2.3 percent weaker at 61.1280 to the dollar at 6:44 p.m. in Moscow.
Inflation Target
Price growth remains almost four times the central bank's mid-term target after slowing last month to 15.3 percent from a year ago. It reached 15.8 percent on July 27, the Bank of Russia estimates.
The nation's slump deepened in the second quarter as gross domestic product shrank 4.4 percent from a year earlier after a 2.2 percent drop in the first three months, according to Economy Minister Alexey Ulyukayev.
The central bank said it may downgrade its forecast for a 3.2 percent economic decline this year. With a slump in oil prices weighing on the economy, borrowing costs remain half a percentage point short of a full rollback of an emergency rate increase in December.
The economy contracted at a sharper annual pace in the second quarter compared with the previous three months, according to the central bank. The scenario of oil prices remaining below $60 a barrel "for a long time is more probable than it was in June," it said.
Russia will endure a two-year economic contraction if crude prices remain at $60 through 2016, the central bank said in June.
"The central bank's rate cut underlines its worries on growth and that for the time being it would rather use direct FX-market tools -- reduced intervention -- to address FX instability," Daniel Hewitt, an analyst at Barclays Plc in London, said by e-mail.