Kasich Super-PAC Unleashes New Ad Focusing on National Security
He is counting on success in New Hampshire's first-in-the-nation primary to make himself in player in the crowded Republican presidential contest.
By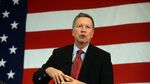 The super-PAC supporting John Kasich's presidential campaign is switching up its apparently successful television advertising campaign, with a new 30-second spot slated to begin airing next week, according to a person familiar with the plans.
The group, New Day for America, has contributed to the Ohio governor's rise in recent polling in New Hampshire with around $2 million in broadcast and cable commercials in the state's media markets, as well as ads airing on expensive Boston broadcast stations.
The initial flight of commercials, which began on the week of July 6, were 60-seconds long, which is much less common than the typical political spot that runs 30 seconds. The strength of that run of ads has helped speed Kasich's rise from near zero in New Hampshire polls to 7 percent in a Monmouth University survey released on July 28 and an NBC News/Marist poll released on July 26. 
Kasich is counting on success in that state's first-in-the-nation primary early in 2016 to make himself in player in the crowded Republican presidential contest, which now features no fewer than 17 combatants. Political strategists say the ads on Kasich's behalf have been effective in part because backers of the other 16 candidates and the campaigns themselves have mostly refrained from running television advertising over the same time period, leaving the field largely to the pro-Kasich spots, the better to catch voters' attention.
The new ad will replace the 60-second commercial that has been airing, the person said.
The focus of the new ad is national security, an area that Kasich's supporters believe he has an edge because of his time on the Armed Services and Budget Committees when he served as a senior member of the House of Representatives from Ohio. The spot includes images of Kasich visiting with American military personnel overseas.
The commercial begins with a soft contrast with both President Barack Obama and the Democrats' leading presidential candidate, Hillary Clinton. As images of the two play on the screen, a female narrator intones, "Weakness, handwringing, inexperience. They're looking out or us?" As negative political ads go, this is pretty tame stuff, seemingly aimed at straddling Kasich's pledge to run a positive campaign with a desire by the PAC's admaker, veteran Republican strategist Fred Davis, to demonstrate to Republican voters that Kasich is willing to take on both the incumbent and the party's most likely standard bearer.
Kasich's final words in the spot's tag line "There's no substitute for experience," plays up one of his main selling points as a sitting governor on his second term and former longtime member of Congress.
Since his formal kickoff announcement less than two weeks ago, Kasich has risen high enough in national polls to close in on a spot in the first Republican primary debate on August 6. He would have to rank in the top 10 in the five final national polls that will be used by the forum's host, the Fox News Channel, to determine who is eligible to participate.
New Day for America, which began as a so-called 527 organization but recently transformed into a super-PAC, just reported taking in over $11 million in the second quarter of 2015. In addition, the person familiar with the PAC's fundraising said that with Kasich's rise in New Hampshire and national polling in recent days, additional significant contributions have come in, including one check of over $1 million, two over $500,000 and "several" above $250,000. Although Kasich appears on camera in the ad, he and his campaign advisers are no longer allowed to coordinate their message or advertising strategies with those running the PAC.
Kendall Breitman contributed to this post.