Hillary and Bill Clinton Made $139 Million in Eight Years
The Democratic presidential front-runner and her ex-president husband paid more than $43 million in taxes. But they're not complaining.
By and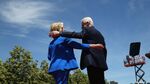 Hillary and Bill Clinton made $139.1 million over the past eight years, cashing in on their celebrity and connections to put themselves in the ranks of the highest-paid Americans, according to tax returns released Friday by the former secretary of state's presidential campaign.
Speaking fees paid to both Clintons. along with former President Bill Clinton's lucrative consulting deals put the couple near the very, very top of the U.S. economic scale. Their 2012 adjusted gross income of $19.7 million placed them in the top 0.01 percent for that year, a level reached by fewer than 14,000 households, and it represents a meteoric rise for a couple that once depended on Hillary Clinton's law firm salary.  
She was the prime family breadwinner when Bill Clinton was making $35,000 a year as governor of Arkansas. Now, they have his-and-hers limited liability companies, and their annual property tax bill is about double the U.S. median income.  
The Clintons paid a total of $43.9 million in federal taxes over those eight years, and their average tax rate works out to 31.6 percent. That's mostly a function of the source of their earnings: highly taxed speech and business income, rather than investments. Their tax rate topped 35 percent in 2013 and 2014, thanks to the expiration of the George W. Bush tax cuts they opposed and the start of Obamacare taxes they supported. 
"Families like mine that reap rewards from our economy have a responsibility to pay our fair share," HIllary Clinton said in a statement. The Democratic presidential front-runner has called for higher tax rates on high-income Americans. 
In 2014, with both Clintons on the paid-speech circuit and Hillary Clinton on tour to promote her most recent memoir, the couple brought in more income than in any previous year: $27,946,490. That's more than $75,000 per day. They reported paying a federal tax rate of 35.7 percent in 2014 and donating 10.8 percent of their income to charity. 
Clinton's campaign chose to release the tax returns along with a letter from her doctor giving her a clean bill of health on an unusually busy summer Friday when the State Department released some of her e-mails from her time as secretary of state and the Federal Election Commission released super PAC donation records.
Taken together, the voluntary and involuntary disclosures amounted to "the most expansive, transparent release of documents ever," Clinton senior strategist Joel Benenson said on Bloomberg's With All Due Respect, at about the same hour as the super PAC supporting Clinton, Priorities USA, made its filing with the FEC. With the latest release of tax documents, Benenson said, the Clintons will have made public 38 years of tax returns.
That puts Hillary Clinton ahead of one of her chief Republican rivals, Jeb Bush. The former Florida governor last month made 33 years of his taxes public. Another one of the 2016 presidential field's wealthier candidates, Carly Fiorina, was the first to release details on her taxes, providing two years of reports.
The Clinton campaign moved quickly to exploit the advantage. "If @JebBush wants to call himself the most transparent candidate in the race about his finances, he is going to have some catching up to do," Brian Fallon, the campaign press secretary, said on Twitter.
"Looking forward to seeing the itemized income sources for Jeb Bush and Associates. On any day of the week," Fallon added. This came after Bush communications director Tim Miller accused the Clinton team of engaging in a Friday news dump timed to overshadow the court-ordered release of Clinton's State Department e-mails.
On With All Due Respect, Benenson argued that Bush has failed to detail the source of some $19 million in business fees and dismissed the theory that the campaign was engaging in obfuscation by information. "The campaign releases documents when they have them ready," he said. "Why not do it all at once?"
Among the nuggets in the Clintons' tax forms: The couple has his-and-hers LLCs, a corporate entity created by independent earners for tax advantages. Hillary Clinton's post-State Department income from speeches and her book, Hard Choices, was paid to ZFS Holdings LLC, established in Delaware a week after she left the job. Her husband uses a similar entity, WJC LLC, to take in speech and consulting income. The existence of WJC became public earlier this year, and the Clinton campaign did not respond to questions about why the candidate's LLC had not been previously disclosed.
Since 2010, Bill Clinton brought in just short of $16.5 million for his role as honorary chancellor of Laureate Education, a for-profit college company. He left the position earlier this year weeks after his wife launched her campaign.
In 2014, Bill Clinton made $9 million off of paid speeches and $6.4 million in consulting fees. Of that, $4.3 million came from Laureate and another $2.1 million from GEMS Education, a Dubai-based company that runs preschool and K-12 programs. He made less from those two gigs in previous years – $5.6 million in 2013 and $4.7 million in 2012. In 2011, the former president was paid $2.5 million by Laureate, $500,000 by GEMS and $100,000 by Teneo Holdings, a firm co-founded by former Clinton aide Doug Band.
The Clintons' 2008 tax return shows the end of the former president's business partnership with Ron Burkle and his Yucaipa investment firm. Bill Clinton closed out his stake with a capital loss exceeding $726,000. Because the Clintons have been taking few capital gains since then, they have been deducting that loss against ordinary income at the legal limit of $3,000 a year. 
The Clintons disclosed $3,022,700 in charitable contributions last year, including $3 million to the Clinton Family Foundation and $200 to Hot Springs High School's class of 1964, for which the former president attended his 50th reunion last fall. In all, the Clintons gave $14,959,450 in charitable contributions between 2007 and 2014, though nearly all – $14,769,000 – went to the Clinton Family Foundation, which disburses donations to other charities, including the Clinton Foundation.
They also posted details of their speeches in 2009. Hillary Clinton spoke to private-equity firm KKR, which paid her $225,000. Even so, she wants to raise taxes on the carried interest received by fund managers. 
Bill Clinton often earned higher speech fees, especially abroad. Amway paid him $700,000 for a February 2013 speech in Japan. He also took $225,000 from CGI Group of Canada in June 2013. Four months later, the company was in the political crosshairs in Washington for its management of the flawed Obamacare website. 
In the statement she released with her tax returns, Clinton emphasized that her family has not always been so wealthy. She and her husband "have come a long way from my days going door-to-door for the Children's Defense Fund and earning $16,450 as a young law professor in Arkansas – and we owe it to the opportunities America provides," she said. 
Friday's release covers the years during which Clinton first ran for president, served as secretary of state and then made millions of dollars giving speeches. During the same time, Bill Clinton was making money through speeches and consulting. The Clintons have previously released tax returns going back to 1977 during earlier campaigns and while in the White House.
(Correction: An earlier version of this story incorrectly said the Clintons listed WJC, LLC in financial disclosures.)