Europe's Largest Chipmaker Clashes With Its French State Owner Over Strategy
Marie Mawad, Francois de Beaupuy and Helene Fouquet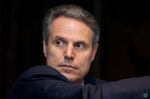 STMicroelectronics NV and its French state owner are headed for a collision over a strategy that includes possible job cuts at Europe's biggest semiconductor maker, according to people familiar with the matter.
Chief Executive Officer Carlo Bozotti's turnaround plan for the digital unit, which makes chips used in set-top boxes and smartphone sensors, entails cutting hundreds of positions in France and elsewhere out of a workforce of about 2,500, the people said, asking not to be identified discussing private deliberations. France and Italy's governments together own 27.5 percent of Geneva-based STMicro.
The proposal is drawing criticism from the French government, which questions Bozotti's research and development decisions and how he allocated hundreds of millions of euros in state and European Union subsidies, the people said.
The French stakeholder is also disappointed by some technology choices in the past and timing of product launches, and its trust in management has been damaged after STMicro made overly optimistic presentations about its business in recent months, said one of the people with knowledge of the situation.
STMicro shares fell as much as 1.6 percent and closed 0.2 percent lower at 7.11 euros in Paris. The stock has gained 15 percent this year and has a market value of 6.5 billion euros ($7.1 billion).
Simmering Tension
The simmering tension between what was once one of the world's largest chipmakers and its shareholder centers on CEO Bozotti, a 62-year-old Italian who is in his 11th year leading the company. Under Bozotti, STMicro accumulated about $1 billion in net losses, partly because of wrong bets on chip customers such as Nokia Oyj. Its 2014 revenue, at $7.3 billion, was 17 percent less than in 2005, the year he became CEO.
A STMicro spokesman declined to comment on its relationship with shareholders and plans for the digital unit. Bozotti wasn't available for an interview. STMicro continues to explore options for the business and expects an update in October, Bozotti said on an earnings conference call on July 23.
A senior official at the Finance Ministry declined to comment.
France has asked Bozotti to come up with a plan that will set out the company's research priorities and its budget allocation in the coming months, another person said. The proposal should address job cuts and the digital unit, but also detail how STMicro can achieve sustainable revenue growth and profits by focusing its investments on the most promising technologies, the person said.
Volatile Demand
The chipmaker's supervisory board has one representative from France and Italy each. Italy's government remains supportive of Bozotti and his management team and is focused on a transfer of the STMicro shares from the finance ministry to the Fondo Strategico Italiano, two people familiar with the matter said.
While efforts to push its chips to carmakers and onto wearable electronics have paid off, STMicro remains exposed to products whose demand are more volatile, such as personal computers and smartphones.
STMicro employed more than 43,000 people at the end of last year. About 11,000 workers are in France and almost 10,000 in Italy, according to unions. The digital business, which accounts for about 15 percent of STMicro's revenue, includes some products inherited from a former venture with Ericsson AB. It has factories in Crolles and Rousset in southeastern France.
STMicro union representatives have voiced concerns about Bozotti's decisions to quit some product developments in favor of others. In a July 18 letter addressed to STMicro's government shareholders and the European Commission, Works Council Secretary Henri Errico included a change in management on its list of proposals for the chipmaker.
"During the past decade STMicroelectronics has fallen down the industry's rankings amid a finance-only focus that's yielded no result," Errico wrote. "Employees denounce this unclear and short-term strategy that's led to business failures and inefficient reorganizations."