Bank of Ireland Profit Rises 80% Amid Gains From Bond Sales
Joe Brennan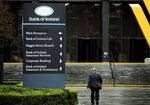 Bank of Ireland Plc, the largest Irish lender, said first-half profit soared 80 percent as soured loans fell and it made gains from the sale of government bonds.
Net income rose to 617 million euros ($675 million) from 343 million euros a year earlier, the Dublin-based bank said in a statement on Friday. Bad-loan charges declined 62 percent to 168 million euros and the bank gained 171 million euros from the sale of treasuries.
Underlying pretax profit, which excludes one-time items such as restructuring costs, more than doubled to 743 million euros. That was "substantially ahead of our forecast of 386 million euros," Emer Lang and Diarmaid Sheridan, analysts at Davy, said in a note to investors. "The main areas of outperformance were higher income due to Bank of Ireland's tactical decision to accelerate the disposal" of bonds and lower loan losses, they said.
Bank of Ireland's level of defaulted loans have fallen by 5 billion euros, or 27 percent, from their peak in 2013 as the country recovers from Europe's worst real estate collapse and banks ease terms of sourced loans. Ireland's economy expanded 1.4 percent in the first quarter, helped by growth in exports and consumer spending, the central statistics office said on Thursday.
The bank had a "net release of about 32 million euros of provisions in our Irish mortgage portfolio, which shows that restructuring of loans is working and customers are curing," Chief Executive Officer Richie Boucher said by telephone.
Capital Strengthened
The bank's common equity Tier 1 capital ratio, a gauge of financial strength, rose to 11.1 percent from 9.3 percent in December. This was driven by earnings in the first half and a narrowing of the group's pension deficit.
Bank of Ireland rose 0.3 percent to 37.9 euro cents at 9:17 a.m., reversing earlier losses in Dublin,
Eamonn Hughes, an analyst at Goodbody Stockbrokers, said it was "a little disappointing" that the bank's sale of bonds in the second quarter had lowered the net interest margin to 2.17 percent. The measure was 2.22 percent in the fourth quarter.
The bank's net loan book increased by 3.2 billion euros to 85.3 billion euros in the first half, returning to growth, as a stronger pound lifted the value of sterling assets. The bank's 6.5 billion euros of gross new lending was outstripped by 6.9 billion euros of loan repayments by customers.
The bank is on track to return to paying dividends for the first time since the onset of the financial crisis after it redeems 1.3 billion euros of preferred stock in the first half of next year, Boucher said.