politics
Another Floridian Running for the White House?
Many Republican presidential candidates own property in the Sunshine State, but it's a Democrat who owns the polls.
By and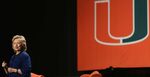 In Florida, the biggest swing state in the race for the White House, Republicans have plenty of assets. The state's former governor, Jeb Bush, is top contender for the party's presidential nomination. So is Marco Rubio, who represents Florida in the U.S. Senate. Two other residents, Ben Carson and Mike Huckabee, are also among the candidates. Last but not least: The field's surprise front-runner, Donald Trump, owns a beachfront resort and a golf course.
But they've got competition.
The most popular presidential candidate in the Sunshine State isn't a Floridian—at least not officially.
Democratic front-runner Hillary Clinton, who arrives in the state Friday for two appearances, shares a powerful bond with its residents. Florida has at times been home to both her brothers, and a place where she and her husband, former President Bill Clinton, did decades of networking. It's also been the location of some of the major moments Clintons' political stories. All of that means that even brief visits to the state—including Friday's trip for a speech to the National Urban League convention in Fort Lauderdale, and the unveiling of her Cuba policy at Florida International University in Miami—become homecomings.
That's why Democrats say she can deliver the party's third consecutive presidential victory in the state, even if Republicans put a Floridian on the ticket.
A June poll of Florida general election voters by Quinnipiac University, Clinton with the support of 46 percent of those surveyed when pitted against Bush, who got 42 percent. Clinton led 47 percent to 44 percent against Rubio. The margin of error was three percentage points. 
"It's a long-term, personal relationship Clinton has here," said Mitch Ceasar, the long-time chairman of the Broward County Democrats, and a member of the Democratic National Committee's executive committee. "They've been coming down here for so long."
In 1991, three years before Bush's first campaign in the state, Ceasar walked Bill and Hillary Clinton around the state's Democratic convention, introducing them to delegates who were voting in a straw poll. Bill Clinton's surprise victory in that contest is generally regarded as a crucial early achievement in his race for the Democratic presidential nomination.

"It was seminal," Ceasar said. "It showed he had appeal to a big, moderate state, and I think that catapulted him into becoming a national candidate. And that was, what, 24 years ago?"
Clinton and her husband have had many opportunities since to cement their Florida ties.
As first lady, Clinton spent multiple nights at the historic Biltmore Hotel in Coral Gables with her husband and visited synagogues in the state; as a presidential candidate in 2008, she won the state's Democratic primary and, on virtually no notice, drew hundreds of Floridians to celebrate with her in Davie, just outside Fort Lauderdale. Since leaving her job as secretary of state, she has spoken twice at the University of Miami.
Still, Clinton's relations with some key Florida constituencies may need massaging. Her longstanding support for building diplomatic relations with Cuba and the call she'll make Friday for ending the trade embargo on the island nation is likely to be a point of  contention for many of the 1.2 million Cuban-Americans who live in Florida. She could also face difficulty with some Jewish voters over her support for President Barack Obama's nuclear deal with Iran deal. For Clinton, there's also the question of African-American turnout: No other Democrat has been able to draw as many black voters to the polls as the nation's first African-American president, and that has been a factor in Democrats losing the last two Florida governor's races. 
Clinton's bond with Florida is largely "emotional," as Ceasar described it. That may eventually present a political challenge, particularly against politicians from the state: As a senator from New York and secretary of state, she's delivered limited tangible, direct benefits to Floridians.

"A lot the Hillary enthusiasm in Florida is about image," said Brian Crowley, a Florida political analyst and author of the Crowley Political Report. "It has more to do with the possibilities than accomplishments."
As a presidential candidate, Clinton never built a formal campaign operation in Florida either. In 2008, the state Democratic party scheduled its primary in January in violation of Democratic National Committee rules. As a result, she and the other top candidates signed a pledge not to campaign in the state. Without campaigning and even as Obama began to edge ahead of her nationally, Clinton dominated, winning 49.8 percent of the Florida vote. Obama got 32.9 percent.
This time around, Clinton is trying to lay the groundwork early. One paid Clinton staffer was in Florida from the campaign's launch in April through June 30, tasked with building up a volunteer network. Her campaign says it has held 59 house parties and 29 organizing events in the state so far, and has been active at parades and other events signing up supporters.
While that may still be a modest operation compared to Bush's home-grown political machine, Democrats say Clinton's decades of ties to the state—not to mention the presence of some very active supporters—put her in a good position for the primary and general elections, even if she were to face Bush or Rubio. 
When Clinton begins building a campaign structure in the state, "they'll basically have a 30-year turnkey operation in place," said Tallahassee-based Democratic strategist Steve Schale, who served Obama 2008's Florida state director during the general election. "They're not building from scratch here in any way."

Former Clinton White House political director Craig T. Smith, a political strategist who served as a senior adviser to Ready for Hillary, lives in Miami, as does developer Chris Korge, who was a top fundraiser for the 2008 campaign.
Donna Shalala, who served as Health and Human Services secretary throughout the Clinton administration, remained an influential Clinton ally throughout her 14 years as president of the University of Miami. She brought the Clintons to the university several times and twice hosted Clinton Global Initiative University, an annual conference for college students, most recently in March. When Shalala left her job at the end of the most recent academic year, she moved closer toward the center of the Clintons' orbit, becoming president of the Clinton Foundation.
Native Miamian Janet Reno also spent eight years in the Clinton Cabinet, serving as the first-ever female attorney general. 
Clinton's closest ties with Florida are by blood. Her brother Hugh Rodham, an attorney, has lived in the South Florida area for 35 years; her other brother, Tony Rodham, lived in Miami for about a decade starting in the early 1980s. In 1994, Hugh won the Democratic nomination for a Senate seat from Florida but, even with the sitting president and first lady campaigning for him, lost to incumbent Republican Senator Connie Mack III. He has since focused on his law career at Fort Lauderdale firm Rodham & Fine.
"They have family here, they have friends here and frequently come to South Florida to support the community," said Bret Berlin, a DNC member and former chair of the Miami-Dade Democrats.  
Before it's here, it's on the Bloomberg Terminal.
LEARN MORE