What You Never Knew About U.K. Immigration
Few issues fire Britons up more than immigration. What are the facts?
By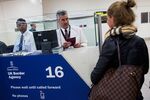 Immigration is big news in the U.K. At the moment, the country's focus is on thousands of would-be migrants struggling to enter from France. And in national elections last May, the anti-immigration U.K. Independence Party scored the third-most votes behind the winning Conservatives and its main challenger, Labour.