Networks Outsource Their Networking
Streaming companies see brisk business from TV programmers
By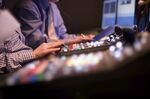 From HBO and AMC to ESPN and the Tennis Channel, TV networks have relied for decades on cable and satellite providers to distribute their programming. In the era of streaming video, they're trying to deliver shows and movies directly to viewers online, yielding a host of challenges more complex than negotiating fees with the likes of Comcast and DirecTV, says Paul Rehrig, senior vice president for business development at AMC.
"It's hard, it's complicated, and it's moving at a pace that's difficult to keep up with," says Rehrig, who's spent much of the past year overseeing the development of Shudder, a standalone streaming service aimed at horror-movie fans. "You need people who are first and foremost technologists with software engineering backgrounds." AMC, like many networks, looked outside for help.
To build Shudder, Rehrig hired DramaFever, one of more than two dozen businesses working behind the scenes to set up dedicated online homes for old-school media companies. Some of the new online destinations make their money from ads; others, from subscriptions, like the small packages of streaming TV channels out or coming by yearend from Comcast, Verizon, Dish Network, Apple, and Sony. Outsourced streaming-platform development has become a $527 million business, researcher SNL Kagan estimates.
Several of the contractors stream programming themselves. About 7 million people watch DramaFever's collection of subtitled Korean soap operas each month, and Major League Baseball's technology division built streaming services for HBO and ESPN. "If you're trying to go to market quickly, you're looking for a product that's on the shelf and that you know can handle 3 to 5 million concurrent streams on a Sunday night," says Bernadette Aulestia, HBO's executive vice president for global distribution. HBO learned that lesson last year, when the streaming service it had built was overwhelmed during the season premiere of Game of Thrones.
Streaming TV over the Internet requires writing separate code for iPhones, Xboxes, Rokus, and a bevy of other devices. It's tough to sort out from scratch, says Chris Wagner, executive vice president at streaming contractor NeuLion. "If you have a transportation problem, do you buy a car or build a car?" says Wagner, whose company helped Univision stream the World Cup to 74 million people last year and set up a video network for the Tennis Channel in eight weeks. "We build a platform that gets you there faster and with less cost."
DramaFever was a natural partner for AMC, which had been an investor before Japanese telecom giant SoftBank bought the streaming company for $100 million in October. Earlier last year, DramaFever helped AMC build Doc Club, a subscription service focused on documentaries. The company wouldn't say how many people pay the yearly $60 subscription fee. Shudder, the horror service, began operating in open beta on July 15 and charges viewers $50 a year. It has a solid selection of classic and newer horror movies, but for now users have to rely on category headings like Romantic Bloodsuckers to find the movies, because the interface lacks a search engine.
A few networks have kept their streaming-service development in-house, most notably CBS, which charges $6 a month for its All Access service. "We certainly didn't want to pay another firm to outsource something we already know how to do," says Marc DeBevoise, executive vice president at CBS Interactive. He says building the service took more than a dozen engineers about nine months of work.
DramaFever took a year to produce Shudder, but AMC would have needed at least six months just to hire programmers, Rehrig says. Eventually, though, he wants his own people handling things, he says: "I don't think you can outsource forever."
The bottom line: The outsourcing of streaming-service development has become a business worth $527 million a year.
Before it's here, it's on the Bloomberg Terminal.
LEARN MORE