Trump's Obamacare Replacement Plan Sounds Quite a Bit Like Obamacare
Without specifics, it's hard to see how Trump's plan for health care differs from the one he's criticizing.
By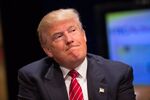 Donald Trump says Obamacare is "very bad" and needs to go. "Repeal and replace with something terrific," he told CNN on Wednesday.
What would the terrific replacement be?
The Republican presidential front-runner was vague, but health experts say that a number of the broad replacement ideas he outlined sound similar to President Barack Obama's health care law, known more formally as the Affordable Care Act.
Trump proposed: competing private plans (which Obamacare exchanges provide for); protecting hospitals from catastrophic events (which Obamacare deals with by requiring people to get insurance so they don't pass on their emergency care costs), and government plans for low-income people who get sick and lack options (which Obamacare does by expanding Medicaid).
"He should take a closer look at the ACA, he might like it," said Timothy Jost, a leading expert on Obamacare who supports the law. "What he is proposing does look a lot like the ACA," added Jost, a professor emeritus at Washington and Lee University School of Law. He noted that Trump backs competing private plans for middle- and upper-income people, as well as some form basic coverage for people who can't afford to buy their own health insurance.  
Larry Levitt, a health care expert at the nonpartisan Kaiser Family Foundation, also saw parallels between Trump's proposals and the Affordable Care Act.
"At the talking point level, a plan like the ACA has broad political appeal. It's maybe not so surprising that Donald Trump's talking points sound a bit like the ACA, since the law is rooted in a lot of conservative ideas," Levitt said. "His emphasis on it being private and competitive is interesting. In fact, the ACA is a giant bet on a competitive, private health insurance system."
As opposed, that is, to a single-payer, government-run health care plan, which is favored by left-of-center Democrats such Vermont Senator Bernie Sanders, who's making a surprisingly strong showing as a presidential contender.
Broad strokes aside, Trump didn't specify how he would achieve each of the goals he outlined, leaving it unclear whether and how he would depart from the approach under Obamacare in some cases. Levitt did detect one potential major difference between Obamacare and a potential Trumpcare: Trump suggested that he wants to let insurers sell across state lines, a far-reaching change from the president's plan, which established state exchanges.
As Obama does in promoting his plan, Trump emphasized the value of universal coverage. That includes people "at the lower end" of the income spectrum, he said, who won't get "the finest plan" but deserve to be covered. He was unapologetic about his goal to help provide health care for low-income people, even if it costs him the Republican nomination.
"Where I may be different than other people—I want to take care of everybody," the real estate mogul told CNN in the interview. "You have a group of people that aren't able to take care of themselves. I can't even imagine."