Trump's Obamacare Replacement Plan Sounds Quite a Bit Like Obamacare
Without specifics, it's hard to see how Trump's plan for health care differs from the one he's criticizing.
By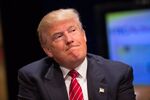 Donald Trump says Obamacare is "very bad" and needs to go. "Repeal and replace with something terrific," he told CNN on Wednesday.