Photographer: David Paul Morris/Bloomberg
The Hottest Apps in Hip-Hop Music
It's not just bling and flashy cars that today's rappers like to name-drop
by
The song begins with a request to turn the speaker volume "way, way, way up." As a subdued piano plays, Drake hits on some standard rap motifs—money and mansions, to name two. But then, sandwiched about halfway into his track "Energy," the chart-topping rapper drops a reference to an app that didn't even exist when Drake's career first took off in 2009: Uber.
Drake is one of 87 mainstream hip-hop artists who mentioned the ride-booking app in their songs, according to data compiled by Genius. Bloomberg asked the startup formerly known as Rap Genius, which hosts music lyrics and asks people to annotate them, to analyze its Rap Stats database for mentions of popular apps. Because why not?
Silicon Valley is always looking for ways to measure the success of its technology startups, whether it's download numbers, active users, or venture capital valuations. While a name-drop in a hip-hop song won't pay for a ping-pong table or an engineer's salary, it's one indicator of an app's hipness and cultural relevance. Companies do a lot to court pop and hip-hop stars. For example, Apple gave a bunch of them Apple Watches before the product came out. A lyrical mention is perhaps the most coveted form of cultural currency.
Tech and hip-hop are converging in ways we've never seen before. Dr. Dre is an Apple executive now, and Drake made a cameo at the company's Apple Music announcement. Other rappers, including 50 Cent, Jay Z, and Will.i.am, have tried their hands at founding or running technology companies. In February, Kanye West proclaimed, "I'd like to be the Steve Jobs of the Gap." Whatever that means.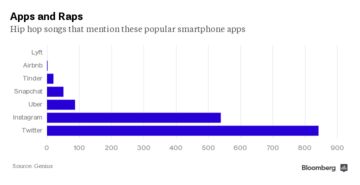 Some hip-hop artists lean on tech references in their songwriting more than others. For example, Beyoncé, Big Sean, Childish Gambino, Chris Brown, Drake, Kanye West, and Kendrick Lamar frequently mention their favorite smartphone apps. Instagram, Twitter, and Uber are three of the hottest brands in rap songs; Snapchat and Tinder are up-and-coming; and Airbnb and Lyft, two darlings of the Valley, barely register in the hip-hop lexicon.
The references aren't always positive. Rappers diss social media almost as much as they celebrate it. While Uber is a popular way to get around, it's often a rapper's chosen method of getting rid of someone he doesn't want around. But Uber, which has collaborated with Mothers Against Drunk Driving, should be pleased to know that rappers see it as a responsible way to avoid drunk driving. In the song "Uber Driver," Wiz Khalifa raps, "I'm too gone off this Veuve to maneuver/I might have to call a Uber." While most of the references to Tinder are too obscene to print, here are some of the notable tech shout-outs.
Instagram
"Partition" by Beyoncé
Every girl in here get to look me up and down
All on Instagram, cake by the pound
Circulate the image every time I come around
G's up, tell how I'm looking babe
"Somewhereinamerica" by Jay Z
When I was talking Instagram
Last thing you wanted was your picture snapped
"Blood on the Leaves" by Kanye West
He Instagram his watch like #MadRichAlert
"Electric Body" by A$AP Rocky
Couple Instagram likes, now she famous
Twitter
"Trouble" by J. Cole
Cole on Twitter, b---- can't get a follow
"Goblin" by Tyler, The Creator 
I mean, you, you, it seems like you have fun. But your Twitter
posts, just... I mean, they're really random and it's ADD
Snapchat
"Rosenberg Freestyle" by Childish Gambino
Hit me on my Snapchat, hit me on my Nextel Chirp
Uber
"Child's Play" by SZA, featuring Chance The Rapper
Scuba in my shower, take an Uber to my neighbors
"The Girls on Drugs" by Wale
I use a Uber to scoop me to SLS
What you expect, a little groupie to see my crib?
Before it's here, it's on the Bloomberg Terminal.
LEARN MORE