Salesforce Gets a Dose of Oracle Discipline
The cloud pioneer wants customers to stop buying piecemeal
By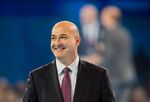 More than a decade ago, Salesforce. com became the first powerhouse tech company built entirely around sales and customer service software that's distributed, managed, and maintained online. Today it has annual revenue above $5 billion and a market value of close to $50 billion. But because it built its business selling to smaller companies, Salesforce is still a fraction of the size of rivals such as Oracle and IBM, which regularly nail down bigger deals. In February, founder and Chief Executive Officer Marc Benioff set a goal of $10 billion in annual revenue, though he didn't say when. That's for Keith Block to worry about.
Block, Salesforce's president and a 26-year veteran of Oracle, has spent the past two years trying to make the cloud company sell more like the hardware giants. He's focused the sales team on securing multiyear megadeals with the likes of Coca-Cola and Barclays instead of pitching software in bits and pieces to businesses of any size. He's asking software designers to build more products aimed at specific industries, and he's developed a more rigid, aggressive sales strategy meant to answer any question a big client could have.
That strategy starts at the top, says Block. When he and Benioff pitch CEOs, "the discussions aren't really around cloud," he says. "They are around, 'How can I change the way I do things with my customer?' Every time we sell something, we're solving a business problem."

Block oversees a team he assembled to manage major accounts. That group includes staffers coding industry-specific software, the salespeople telling clients why they need it, and the customer service reps talking them through each click. The goal is to sell more stuff to Salesforce's top 30 customers, who each pay the company about $10 million a year, and get them to spend five times that, says Steve Koenig, an analyst with Wedbush Securities. Block says he's tripled the number of deal closings by investing in Ignite, a program that offers customers free consulting services, but declined to comment on specific sales targets.
For salespeople, the biggest change under Block has been the "Do Step," a set of do-this-then-that rules he created to guide them through the sales process. It's a serious shift for a sales culture that had long been relatively easygoing, says Jim Steele, the company's former head of worldwide sales, who now holds that position at competitor InsideSales.com. "What Keith brought that we frankly always struggled to get at Salesforce was a disciplined operational rigor that was unyielding, unforgiving," he says.
In 2012, Block left Oracle when instant messages he sent a colleague insulting the quality of Oracle products and the behavior of his boss, Mark Hurd, became public as part of a Hewlett-Packard lawsuit against the company. Benioff hired Block soon after, telling reporters at the time that the recruitment effort had taken 10 years. "I think the biggest mistake Mark Hurd ever made was letting Keith Block leave Oracle, because he's probably the best sales executive the enterprise software industry has ever seen," Benioff said.
Salesforce revenue has grown from $4.1 billion to $5.4 billion in Block's first two years there, and researcher Gartner estimates that the company's share of the market for customer relationship management software has risen from 14 percent to 18 percent. Deferred revenue has grown from $2.5 billion to $3.3 billion as the company signs longer-term contracts with larger companies. The average contract duration has risen and is now one to three years, the company says.
At the same time, Salesforce has been slow to adapt its software designs for the mobile era, Gartner says. Several competitors, including Microsoft, have been faster. Larry Augustin, the CEO of SugarCRM, a smaller competitor, says Block's all-or-nothing sales model de-emphasizes the quality of individual products. "It's not about each application being innovative in its space, it's about being able to provide a suite of apps from one vendor, really the Oracle pitch," he says. Salesforce says rivals can't match its products' versatility, and Block says he regularly gives demos using his iPhone 6.
Salesforce may also need to worry about turnover as longtime employees chafe against Block's changes, says Andy Price, a managing partner at executive recruitment firm Schweichler Price Mullarkey & Barry. Among others, Steele left in December, and four other senior Salesforce managers have joined him at InsideSales since March. But if Block is going to meet Benioff's goal, Price says, some new strictures, and departures, are inevitable. "The company needs to behave like a larger, more mature company," he says. In some cases, "that's just not exciting to the people who've got it to this point."
The bottom line: Block is pushing Salesforce to focus on selling bigger software packages as he aims to double revenue.
Before it's here, it's on the Bloomberg Terminal.
LEARN MORE