Photographer: Alessia Pierdomenico/Bloomberg
Rome's Airport Woes Disrupt Travel, Damage Italy Tourism
John Follain and Lorenzo Totaro
The woes mounted at Rome's Fiumicino airport on Thursday as hundreds of tourists were stranded a day after a fire ravaged a nearby pine forest and disrupted operations amid the peak summer travel season.
An electricity failure disrupted the lighting and air-conditioning systems at Italy's biggest airport for about 20 minutes amid a relentless summer heat wave, according to Rome airports manager Aeroporti di Roma SpA.
Luca Patane, head of the Italian tourism industry group Confturismo, said the airport has been brought to its knees. "Images of smoke and of the electricity outage are going round the world, greatly harming Italy's image." Patane called for emergency measures to resolve the chaos, adding it could "jeopardize tourist arrivals in Italy."
A passenger identifying himself as Miles Roberts tweeted "@alitalia 7 hours waiting, standing in line. Seven." To which Alitalia SpA, Italy's flagship carrier, replied: "We are truly sorry Miles. Yesterday's fire is still causing difficulties for both us and our passengers."
Travelers at Fiumicino have suffered delays since May, when a previous fire in a shopping area forced the partial closure of Terminal 3.
The airport's troubles come five months before Catholic pilgrims and tourists descend on Rome in December, the start of a celebratory Jubilee Year proclaimed by Pope Francis -- an event that is expected to attract hundreds of thousands of visitors.
Rome Mayor Ignazio Marino, a former transplant surgeon, already is under pressure to revive public services in the capital because of uncollected rubbish at popular tourist sites, long waits for subway trains, and buses breaking down in the heat.
Marino has hit back, saying criticisms of his management appearing in U.S. and French news publications were part of a foreign plot. "It's clear that it's a strategy to damage Italy when it has bid for the 2024 Olympic Games, strangely enough against American and French competition," Marino told the Milan newspaper Corriere della Sera on Thursday.
Alitalia, which uses Fiumicino as its main Italian hub, said in a statement on Wednesday it had suffered 80 million euros ($88 million) in damage from the disruption following the May fire. The carrier said it may move the hub if airport managers "bet on low-cost airlines and provide inferior services."
Aeroporti di Roma is controlled by Atlantia SpA, an Italian holding company owned by the Benetton family.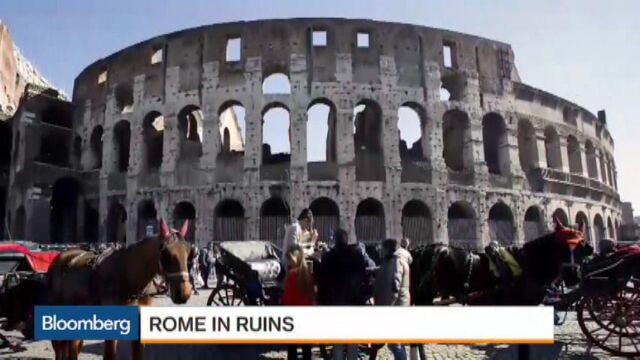 Read this next: