Richard Branson's LauncherOne Prepares for Liftoff
Virgin Galactic to take flight with satellites in tow
By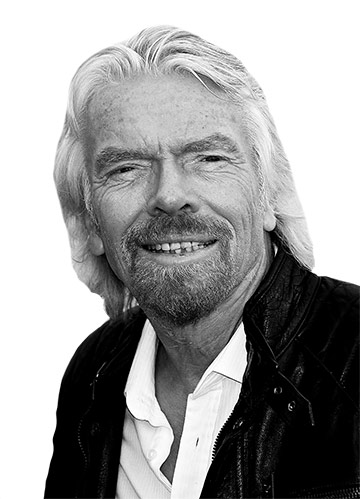 Innovator: Richard Branson
Age: 65
Founder of Virgin Group and its spaceflight subsidiary, Virgin Galactic
Form and function
Fired from a jet plane, the LauncherOne rocket lifts satellites weighing as much as 500 pounds into orbit for about $10 million per launch, much less than the $50 million to $60 million most of its competitors charge.
1. Liftoff
The LauncherOne is anchored to the belly of the same jet-powered cargo plane that Virgin uses to transport the passenger spacecraft it's developing.

2. Launch
The rocket drops from the cargo jet at 50,000 feet before first- and second-stage engines take the satellite 300 miles farther up, into low orbit.
Origin
Branson says he conceived of a cheaper, more flexible service for commercial satellite launches in 2006, and a 10-person team began pursuing the idea in earnest in 2012.
Customers
In June, Virgin announced a 39-launch contract with satellite Internet startup OneWeb. Each launch may include more than one satellite.
Funding
In 2011, Virgin received $100 million earmarked for LauncherOne from Aabar Investments, owned by the government of Abu Dhabi.
Rival
Orbital ATK's jet-launched rockets carry payloads of up to 1,000 pounds for $55 million. Recent cargo: a NASA satellite.
Next Steps
University of California at Los Angeles physics professor Vassilis Angelopoulos says LauncherOne will make his satellite-based research a lot more affordable. "At a price of less than $10 million, that's really awesome," he says. Virgin Galactic is ground-testing LauncherOne before the first monthly flights, expected next year. Vice President for Special Projects William Pomerantz says his team is close to finalizing launch contracts in addition to OneWeb's.
Before it's here, it's on the Bloomberg Terminal.
LEARN MORE