Business
Oil at $40 Seen Less of a Blow to Russia as Economy Adjusts
Andre Tartar and Anna Andrianova
Eleven months of surviving with oil below $100 have left Russia hardened enough to endure a monthlong drop to $40 a barrel, a survey of economists showed.
Crude at that level will push the economy to a contraction of 5 percent this year and 1 percent in 2016, before it rebounds to 0.8 percent growth in 2017, according to the median of 20 estimates. The central bank said in June the economy will shrink every year through 2017 if oil remains at $40.
The ruble's crisis last year underscored the vulnerability of the world's biggest energy exporter to slumping oil, which together with gas accounts for about half of budget revenue. The latest forecasts reflect Russia's move to loosen its reins over the currency and allow consumer demand to absorb the shock of last year's collapse.
"During the first half of 2015, the economy has already adjusted to some extent to a weaker oil-price environment," Oleg Kouzmin, a former central bank adviser who's now an economist at Renaissance Capital in Moscow, said by e-mail. "So the continued contraction in oil should not hurt it as much as a direct drop from $100 to $40."
If oil drops to $40, the authorities will limit their response to an emergency interest-rate increase, avoiding harsher measures such as capital controls and the state takeover of banks, a majority of economists said.
Urals, Russia's chief export blend, averaged almost $59 a barrel June 15-July 14, compared with $62.17 a month before, according to the Finance Ministry. The price may fall below $50 in the next six months, Deputy Finance Minister Maxim Oreshkin told the state-owned Tass news service.

Currency Volatility
"Russia's dependence on oil revenue leaves the economy's income vulnerable to international price shocks," said Wolf-Fabian Hungerland, an economist at Berenberg Bank in Hamburg, Germany. "The West's thaw with Iran was such a shock. Add to this Russia's current recession and the engagement in eastern Ukraine, adding further uncertainty."
The ruble's three-month implied volatility, a measure of exchange-rate swings, is at 19 percent, the highest globally, according to data compiled by Bloomberg. The currency opened 0.6 percent lower against the dollar at 60.1190 in Moscow.
The ruble will weaken to 65 against the dollar by year-end if oil drops to $40 per barrel, according to the survey. Such a move would also prompt the central bank to spend 15 percent of its reserves on currency interventions, it showed.
'Bringing Relief'
"A free-floating currency regime is bringing relief in the current economic recession, helping the budget and supporting low unemployment," said Vladimir Miklashevsky, a strategist at Danske Bank A/S in Helsinki. "We exclude any possibility of introducing capital controls if the ruble stays under 100 against the dollar."
The Bank of Russia won praise from investors for avoiding capital controls at the height of last year's crisis. It opted for an emergency increase to 17 percent in its benchmark interest rate in December and spent about a fifth of its reserves to prop up the ruble.
"A temporary drop in oil to $40 per barrel would obviously hike short-term volatility," said Daria Isakova, an economist at Otkritie Capital in Moscow. "But once the oil price returns to the 55-60 level, the ruble will also stabilize near its true fundamental value."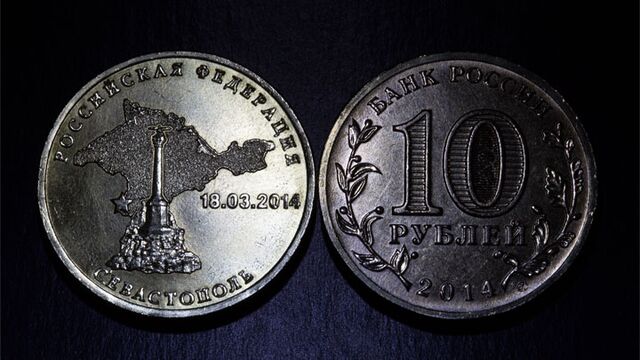 Read this next:
(Updates with economist comment in last paragraph.)