politics
Obama Warns Support on Iran Deal 'Getting Squishy' Amid Pressure
Justin Sink and Billy House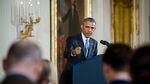 President Barack Obama said opponents of the nuclear accord with Iran are "putting the squeeze on Congress" as the administration works to keep supporters in line.
Confronting a tougher than expected fight to ensure the agreement survives congressional review, Obama and other administration officials made phone calls and in-person appeals to Democrats they are counting on for backing.
In a conference call with political allies Thursday evening, Obama said critics of the deal are spending $20 million on advertising as members of Congress return to their home districts.
The lobbying "is fierce, it is well financed, and it is relentless," and the politics of supporting the deal are "going to be tough" for some lawmakers, Obama said.
"They're feeling it," Obama said. "I can tell when they start getting squishy."
Earlier Thursday, Vice President Joe Biden hosted a private breakfast with a small group of House Democrats at the Naval Observatory. And Obama planned Thursday to discuss the deal with members of his party in the Senate, according to White House press secretary Josh Earnest.
"It's an indication that the president feels a personal responsibility to engage with members of Congress who are keeping an open mind and evaluating this agreement," Earnest said.
On Defensive
Administration officials are increasingly on the defensive against criticism from Republicans and some Democrats, as well as vehement opposition from Israel, according to three officials, who all spoke on the condition of anonymity to discuss internal political deliberations.
That battle will continue through the congressional recess next month. The administration is bracing for the American Israel Public Affairs Committee, the leading pro-Israel lobbying group, to press for rejection of the agreement in lawmakers' home districts. AIPAC is also sponsoring trips to Israel next month for some members of Congress.
Lawmakers have until September to review the accord struck by the U.S. and five other world powers with Iran on July 14. If they pass a resolution of disapproval -- the likely outcome in the Republican-controlled House and Senate -- Obama can veto it. Administration officials are counting on Democrats to sustain a veto, which would stand unless two-thirds of Congress voted to override it.
Pelosi Confident
House Minority Leader Nancy Pelosi reiterated Thursday that she thinks any presidential veto of a disapproval measure of the deal will be sustained.
"Where does my confidence spring from?" Pelosi, a California Democrat, told reporters at the Capitol.
"First of all, from the quality of the agreement. Second of all, to the seriousness and thoughtfulness with which my colleagues have approached this," she said. "And more and more of them have confirmed to me that they will be there to sustain the veto."
Even as Pelosi expressed confidence the deal would survive congressional review, Representative Grace Meng of New York, a Democrat and a member of the House Foreign Affairs Committee, announced her opposition Wednesday.
"I strongly believe the world could and should have a better deal," Meng said in a statement.
Rousing Supporters
Obama on Thursday warned supporters on his conference call, included members of the Center for American Progress, MoveOn, and Organizing for Action, that "this opportunity could slip away."
As the White was making its pitch, representatives of AIPAC have fanned out across Washington to lobby lawmakers.
"The proposed deal falls short of its intentions to eliminate every Iranian pathway to a nuclear weapon," AIPAC President Robert Cohen wrote in a July 28 letter to lawmakers. "We urge you to oppose the deal in order to keep the United States and our allies safer."
In addition to their lobbying on Capitol Hill, AIPAC is organizing trips to Israel for a group of influential House Democrats over the August recess. Minority Whip Steny Hoyer, a Maryland Democrat, is among the lawmakers making the trip, and his office says the itinerary includes a meeting with Israeli Prime Minister Benjamin Netanyahu, one of the deal's most ardent critics.
Personal Outreach
The White House is looking to counter those efforts by making the president, who has faced criticism over his relationship with Congress, available to lawmakers. On Wednesday afternoon, Obama made his argument for the Iran deal to House Democrats at the White House, according to an administration official.
When lawmakers were called back to the Capitol for votes before the president could field questions, Obama -- who had returned from a five-day swing through Africa earlier that morning -- invited the group to return later in the evening.
Administration officials also are trying to assure Congress that the U.S. is prepared to offer additional assistance to Israel and Persian Gulf states and to respond militarily to Iranian misbehavior.
Defense Secretary Ashton Carter told the Senate Armed Services Committee Wednesday that the U.S. retains all its military options in dealing with Iran.
The White House has attempted to put critics of the deal on defense. Obama has likened critics of the Iran agreement to backers of the U.S. invasion of Iraq -- a point Obama again emphasized Thursday.
Obama told his supporters they faced "the same array of forces that got us into the Iraq war," and cautioned that the U.S. could be forced to take military action against Iran within three to six months if Congress gutted the deal.
"It's pretty rare where something of such consequence is so clearly in front of us," Obama said.
Before it's here, it's on the Bloomberg Terminal.
LEARN MORE