It's Amazon's World. The USPS Just Delivers in It
The U.S. Postal Service has become an extension of Amazon and is courting other e-commerce giants
By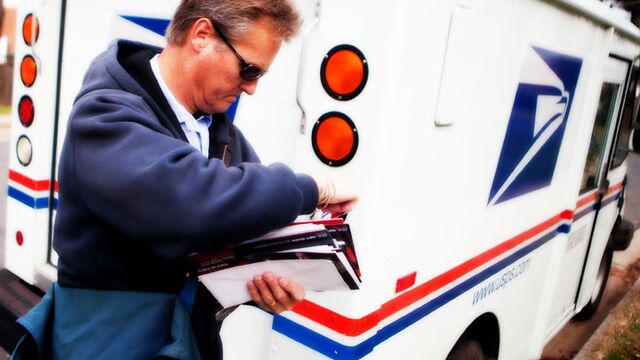 In cities such as San Francisco and New York, letter carriers have been showing up on people's doorsteps as early as 3 a.m. bearing unusual cargo: milk, eggs, and other perishable items. The U.S. Postal Service has been delivering groceries to customers of Amazon.com in selected areas since October 2014. "It's just leveraging our infrastructure," says Megan Brennan, who was sworn in as America's 74th postmaster general in March, becoming the first woman to hold the job in the institution's 240-year history. "We're on people's doorstep six days a week, seven days a week in some cases. It's just a logical progression."
A former letter carrier from Pottsville, Pa., Brennan is trying to transform the USPS into a delivery service for the e-commerce era. That means hauling fewer letters and more packages. It means showing up with them at once-unheard-of hours and even on Sundays. "Amazon is the first," Brennan says. "But we're obviously looking to get additional customers who are interested in that type of customized delivery."
Brennan's predecessor, Patrick Donahoe, announced in November 2013 that the Postal Service would do deliveries for Amazon seven days a week. Since then, the Seattle giant has assembled a network of more than 15 facilities where it sorts packages it then trucks to nearby post offices, so letter carriers can take them the rest of the way. Amazon said in a recent regulatory filing that it plans to build more of these sorting centers this year.

The USPS doesn't disclose much about its relationship with Amazon, citing confidentiality agreements. Amazon didn't respond to several requests for comment. David Vernon, an analyst at Bernstein Research who tracks the shipping industry, estimates the USPS handled 40 percent of Amazon's volume last year—or almost 150 million items—more than either United Parcel Service or FedEx. He figures that Amazon pays the USPS $2 per package, which is about half what it would pay UPS and FedEx. Vernon says Amazon receives a deep discount from the USPS because the e-tailer does so much of its own processing—including providing computerized address lists to make it easier for carriers to tailor their delivery routes for faster drop-offs. "I think [Amazon's] idea was, why give this volume to FedEx when we can just sort it ourselves?" Vernon says. "Because it's not that hard."
Brennan needs all the new business she can get. In 2014 first-class mail volume fell 3 percent compared with the previous year, to 64 billion pieces. Advertising mail, which some people refer to as junk mail, remained essentially unchanged. But the USPS's package volume climbed 8 percent from the year before, to 4 billion items, and accounted for 20 percent of the agency's $68 billion operating revenue.
Yet as its package volume rises, the USPS has had to invest in new equipment. Last year it spent $200 million to furnish its carriers with 270,000 Internet-connected handheld scanners made by Honeywell that enable them to provide real-time package tracking. "The Postal Service is far more technology-centric than most people would understand or believe," Brennan says. The agency is also hoping to replace its fleet of 189,750 delivery trucks, most of which are 25 years old and not configured to hold packages. The USPS Office of the Inspector General estimates this will cost more than $5 billion.
These expensive upgrades come at a time when the USPS is essentially broke. It expects to lose $6.1 billion this year and as of late March had only $6 billion in cash, enough to keep running for 22 days. Brennan has been quietly calling on various political leaders and special-interest lobbyists in Washington whose support she needs to fix her troubled agency. A top priority: getting Congress to pass legislation that would require USPS retirees to use Medicare as their primary health insurance. This would eliminate the need to pay $5 billion a year to fund future retiree health benefits, as the agency is now required to do by law. It hasn't been able to make the payments since 2011.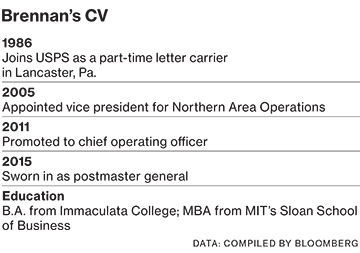 The USPS's package growth gives Brennan something more pleasant to discuss with lawmakers and lobbyists than the inexorable decline of first-class mail. Even conservative Republicans, who object to proposals championed by U.S. Senator Elizabeth Warren (D-Mass.) and others for the USPS to get into new businesses such as banking, want to see the agency deliver more e-commerce-generated boxes. "Nobody ever said they shouldn't be delivering packages," says Jason Chaffetz (R-Utah), chairman of the House Committee on Oversight and Government Reform, which oversees the USPS.
Postal union leaders, who don't always see eye to eye with management, are similarly enthusiastic. "We've been trying to get the Postal Service to do this kind of thing for years," says Brian Renfroe, director of city delivery for the National Association of Letter Carriers.
The USPS says it's making Sunday deliveries for other companies, which it refuses to name. But it may be a while before Brennan lands another client as big as Amazon, which, besides the sorting centers, has 50 enormous distribution warehouses across the U.S. "The only company in America right now that has so many distribution centers purely for e-commerce is Amazon," says Marc Wulfraat, founder of MWPVL International, a logistics consulting firm in Montreal. "Wal-Mart's probably the next-biggest player with, say, six or seven, and it drops off real fast after that."
In the meantime, the USPS is tethered to Amazon, a company that isn't just a customer—it's also a competitor. In cities such as New York and Washington, where the USPS is testing same-day delivery, Amazon offers a similar service. The e-tailer has its own AmazonFresh grocery delivery trucks. And it's seeking permission from the Federal Aviation Administration to make deliveries using aerial drones. Given its gargantuan ambitions, Amazon could even recruit its own army of delivery people. But Brennan isn't concerned about that. The last thing Amazon Chief Executive Officer Jeff Bezos probably wants to do now after building all those sorting centers is hire more than 300,000 men and women to carry packages like the USPS. Even in the age of Amazon, that's the Postal Service's undeniable edge.
The bottom line: The U.S. Postal Service handled an estimated 40 percent of Amazon's deliveries in 2014.
Before it's here, it's on the Bloomberg Terminal.
LEARN MORE