Grooming
How to Handle Your Beard During the Dog Days of Summer
Three top experts share tips on keeping cool and itch-free, and recommend tools from scissors to toothbrushes (yes, for your beard)
By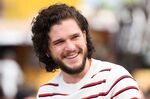 There was a time "beard maintenance" meant just one thing: not shaving. That was before men (and the multibillion-dollar beauty industry) discovered that facial hair didn't have to be itchy, rough, and untamed. With the right care, a bearded look can come across just as neat and professional as a clean shave. But even if you prefer the hipster look, or the drifter look, or (my favorite) the Jon Snow 10-day shadow, there are things you can do to make surviving the hottest and sweatiest month of summer more bearable.

Even though you are wearing what is, essentially, a little fur coat for your face. 
If you're in the Northern Hemisphere, chances are August is going to be hot. And potentially very humid. So you're going to need help not going crazy with that beard of yours. I talked to grooming expert and celebrity hairdresser Amy Komorowski (who has groomed the beards of Jeff Bridges, Joaquin Phoenix, and Seth Rogen, to name a few), as well as New York-based dermatologist Bradley S. Bloom, M.D., and John Rivera, master barber at the Art of Shaving, to help lay out a couple of summertime-specific steps and products. 
They all assure me that beards are still hot. Unfortunately, so is this coming month.  
Invest in a Kit

While all the experts suggest regularly seeing a good barber or hairstylist to help maintain the proper shape and health of your facial hair, they also know that much of the maintenance needs to be done on your own. So you'll need to build a good at-home tool kit. First, invest in a good beard trimmer—which Komorowski considers the most important step and tool. She suggests looking for one with a guard that has "simple, easy-to-use settings to take the guesswork out," like the Philips Norelco Axe Beard and Stubble Trimmer. And if your beard is of the more long-and-full variety (or if you're currently growing it out to be), she also suggests getting a good beard comb, like this one from Baxter of California, and a pair of small scissors—like this stainless steel option by Tweezerman. Bonus: If you're wary of moving a sharp object around your Adam's apple, these blades are precise but have a curved tip, making for a safer option. 
Use Protection 

Sure, your beard seems like built-in sunscreen for your face, but according to Dr. Bloom, "Regardless of thickness, beards do not completely block the sun's rays." If it's a real scorcher outside, Komorowski suggests a clear SPF spray like Banana Boat for Men Clear Ultramist Triple Defense Sunscreen SPF 30, because it will quickly absorb past the beard to the actual skin beneath it. But if you prefer a lotion, Bloom says something like the Art of Shaving's SPF 15 Daily Moisturizer is a good all-in-one alternative that can also decrease inflammation on the skin, thanks to its antioxidants and refreshing eucalyptus oil. Speaking of oil: You can also consider trying a dry-oil sunscreen spray like this one by Clarins—which will also protect and hydrate your skin and hair from other drying elements like salt water and chlorine.  
Wash, Exfoliate (Repeat Often)

"Sweat and dry skin can get trapped underneath the beard hair, making it itchy during the summer months," says Rivera.  "Using a scrub can help to release this dry skin and help the beard to lay better on your face." If you have normal skin, Rivera suggests mixing a lightweight facial scrub, like one by Lab Series, with a low-lather face wash so the scrub can make its way past the beard hair to the hidden skin below. (Note: Any scrub that's too thick can get stuck in beard hair and won't remove the dry skin.) Similarly, Komorowski notes that if your skin is prone to breakouts, try a cleanser with glycolic acid, like Anthony Glycolic Facial Cleanser, and then exfoliate the skin with a boar bristle toothbrush. "It's a bit harder to make contact with your skin if you have a full beard, so a toothbrush will ensure that your skin really gets clean," says Komorowski. 
Nurture It

For those who like to take special care, Rivera and Komorowski both suggest applying a beard oil daily to keep the facial hair soft and hydrated—two things threatened by the season's harsh elements. Komorowski notes that if you have gray in your beard, those hairs can be a bit coarser and you'll need to condition or use beard oil more often (perhaps twice daily). Try this one by Prospector Co.—it's non-greasy and has a masculine, earthy scent.   
Shape Up

Like with the hair on your head, trimming your beard often will stimulate its growth. So if you're looking to just clean up your beard while maintaining its length, Komorowski suggests using your beard trimmer on the highest number setting (or removable guard) so that blade will be the furthest from the face, thus trimming the minimal amount. If more trimming is desired, go with a lower setting/guard. Clean up your neckline with the trimmer on a setting in the middle so there is a smooth and seamless transition—rather than a severe or artificial one—from your hair to bare skin. Or you could prep the skin first with a clear shave gel, like this one by Recipe for Men, and then use a safety or straight razor—like the Art of Shaving's stainless steel straight razor—to produce nice, clean lines. And remember to shave in the direction of the growing hair, not against it. Komorowski notes that both techniques can require a bit of practice to really master like a pro, but that once you know what settings work best for your beard's temperament and skin needs, it's an easy process. 
Nic Screws is the style director for Bloomberg. She loves that her husband looks like Thor between shaves. Follow her on Twitter and Instagram, or e-mail her any of your fashion concerns or questions at nscrews@bloomberg.net.
Before it's here, it's on the Bloomberg Terminal.
LEARN MORE