The Oscar Goes to … Amex?
How corporations became the benefactors of documentary film
By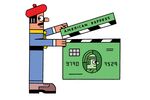 Celebrating the American small-business owner has heretofore been the job of two groups: Republican politicians and small-business owners. American Express has now joined them, choosing as its gift not extra membership rewards points or cash back, but documentaries.
Its three 20-minute films, made by successful directors, are heartwarming stories about downtrodden entrepreneurs that make the viewer want to spend money at mom-and-pops. Released on Vimeo, YouTube, and on-demand on cable, they were funded by Amex, which brought the idea to Tribeca Digital Studios, the year-old filmmaking arm of the Tribeca Film Festival. Last year, Tribeca released its first documentary—We Could Be King, about an inner-city high football team—and it won an Emmy. No one cared it was sponsored by Dick's Sporting Goods.
Since BMW hired Guy Ritchie, Ang Lee, and others to make films in 2001, short movies have emerged as a subtle way of transforming a regular brand into a lifestyle brand. In 2010, Absolut made one with Spike Jonze. Last year, Chipotle had success with a viral cartoon about industrial farming. Ford underwrote This Built America, a documentary series about small-town companies.
Amex has become a leader in this form of patronage. Last year, it hired Davis Guggenheim (An Inconvenient Truth) to direct Spent: Looking for Change, about the struggles of the underbanked, for whom Amex had new programs. Then it made a series of very short films about a kombucha purveyor. All feature sponsorship messages in the credits but no traditional product placement; you won't see any green plastic or hear mention of Amex.
One of the new films' directors, Heidi Ewing, says she and her partner, Rachel Grady (Jesus Camp), get a call every day from a company wanting to make branded content. "You have to make decisions as a filmmaker about how you're going to negotiate this new genre," Ewing says. "It's not a commercial, and it's not an independent doc."
With Tribeca as an intermediary, the directors weren't worried about a corporation ruining their work—or reputation. Amex approached Paula Weinstein, executive vice president of Tribeca Enterprises, who reached out to 10 filmmakers. Eight, excited by the idea of making a film without having to secure funding, had ideas; Amex chose three.
The best of them, Buffalo Returns by Gini Reticker (Pray the Devil Back to Hell), follows two entrepreneurs on the isolated Pine Ridge Reservation in South Dakota. They believe the Lakotas' fate is tied to their buffaloes, and now the buffalo population is reviving, so it's time to sell buffalo-and-cranberry Tanka energy bars. It's a great look at reservation life and tense to watch when they double down with a $1 million loan during the recession. Then the company is saved—spoiler alert—by the hero of every classic movie: social media.
The others are more cheerleader-y. In The Downtown Project, Morgan Spurlock (Super Size Me) spends time with Zappos Chief Executive Officer Tony Hsieh, who is working on his nonprofit to fix blighted Las Vegas. The film's star, a recovering addict named Natalie Young who opens a booming diner, is now featured in her own separate Amex commercial. The other, A Dream Preferred, is about De'Von Brown, a charming young black man in Baltimore who is trying to start an ice cream business. Watching his Kickstarter page try to earn funding isn't so compelling, though Brown is heartfelt and passionate. As news of the Trayvon Martin shooting percolates in the background, everyone else starts rooting for him, too.
Ewing and Grady had been looking for an opportunity to profile Brown, whom they met shooting another movie. And they were pleased the Amex business folks didn't pretend they were film producers, or even insist the subjects be cardholders. "I was concerned they'd have an issue with the Trayvon thing, but no," Ewing says.
She wasn't as concerned with looking like a sellout. "You catch flak when a film is presenting itself as indie at Sundance and it becomes clear a brand paid for it," she says. "I give other filmmakers s--- for that." But if a corporation does want her to make a straight-up TV commercial, she's game. "Two, three minutes? Sounds awesome." 
Before it's here, it's on the Bloomberg Terminal.
LEARN MORE