Facebook Unveils Web-Connected Aircraft With Wingspan of a 737
Sarah Frier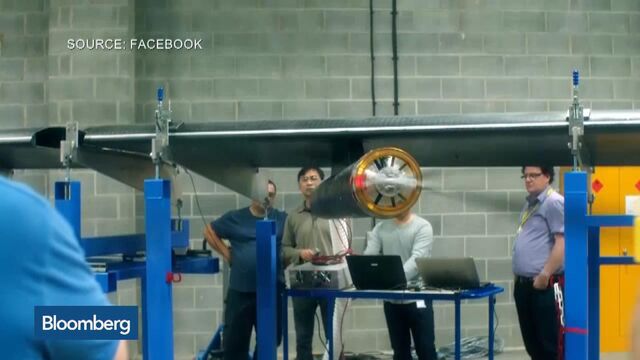 Facebook Inc.'s plan for connecting rural areas to the Internet involves using balloons to lift drones to an altitude of 90,000 feet (27,400 meters), where they will fly for up to three months and transmit information using lasers.
The social-media company, which is aiming to get more people connected to the Internet, gave details of the technical challenges of the project on Thursday. The unmanned aircraft, which will have the wingspan of a Boeing 737 and weigh about a third of a Toyota Prius. The entire surface of the drones are covered in solar panels, removing the need to carry fuel.

The initiative is part of Chief Executive Officer Mark Zuckerberg's plan to increase adoption of the Internet, especially for the 2.5 billion people in the world who don't have access to mobile data networks.
"We want to actually speed up Internet adoption -- and in order to speed that up we need to work on the infrastructure challenges we're working on today," said Jay Parikh, Facebook's vice president of engineering. "Our mission in the company is to connect everybody in the world."
With about half of the world's Web-connected population already using Facebook, getting more people online can help fuel the company's growth. Zuckerberg has told Facebook's board the project will lose money for several years.
Facebook isn't known for its hardware, because much of it is made behind the scenes at the company. Some of its data centers are full of custom-designed servers and networking equipment made to better handle the volume of data being generated by Facebook's 1.4 billion users.
The drone effort is "not too dissimilar from what we did years ago when we were solving the data infrastructure problems we had," Parikh said.
The company plans to spend the rest of the year building and testing the planes, and has been reviewing some potential testing sites in the U.S., Parikh said. The planes, called Aquila, are being built in a lab in Europe.
Read this next:
Before it's here, it's on the Bloomberg Terminal.
LEARN MORE