Forget Confit. How About a Duck Dog?
High-end food purveyor D'Artagnan pursues selling to the masses
By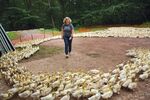 Over the past 30 years, Ariane Daguin has built her company, D'Artagnan, into a thriving business selling foie gras, wagyu beef, and milk-fed pork to some of America's top restaurants, from Mario Batali's Babbo in New York to Restaurant August, a favorite of New Orleans gastronomes. The popularity of D'Artagnan's pricey, high-quality fare among noted chefs and restaurateurs (think Daniel Boulud and Danny Meyer) has helped fuel its sales beyond the toque-wearing crowd. About 30 percent of the company's almost $100 million in annual revenue comes from sales to specialty stores and supermarkets plus a growing online business. Now Daguin is pursuing a bigger target: Middle American diners.

To woo average consumers who eat at home, she's added premium-priced burgers, bacon, and hot dogs to D'Artagnan's lineup. She's also launched a breezy website designed to appeal to Americans who crave quality food, and she's pushing further into mainstream grocery stores. While the presentation or distribution might be different, the French-born entrepreneur is sticking with expensive ingredients—and the resulting high prices. While duck confit at $14 a leg may be a stretch for Safeway shoppers, D'Artagnan is betting they might try a $10 package of six uncured duck hot dogs and trade up later. Daguin knows that could be a tough proposition. "It could be that one day the customer at Walmart will understand the difference in quality," she says. "Today that isn't so."
Daguin, 57, grew up in Gascony, famous for foie gras and a cuisine heavy on duck and goose fat. Her family has made and sold food for seven generations. Flavor is paramount, says Daguin, who recalls almost breaking down in tears upon tasting American chicken while working as an au pair in Connecticut in the late 1970s. "I just wanted a chicken that wasn't bland and mushy," she says. In 1985, after dropping out of Barnard College, she started D'Artagnan. Before long she was supplying big-name chefs in New York, who appreciated her commitment to traditional husbandry without antibiotics.
At Cochecton Farm, a 5-acre spread about 115 miles north of Manhattan that supplies D'Artagnan exclusively, Daguin has worked hard to create a better duck. The standard Pekin Long Island-style variety, popularized in the U.S. after World War II and genetically modified to grow faster and make more money for farmers, features "pale, mushy meat," she says. So she spent two years breeding Muscovy, Pekin, and mallard ducks into a new variety she calls Rohan. Each duck at Cochecton gets 3 square feet of living space, about three times that of conventional farms. And the birds are raised for 11 weeks, twice as long as standard ducks. Rohan ducks are fattier and tastier and at least twice as expensive to produce—even though they eat cheaper natural feed, not the organic variety. That's a cost-saving compromise that might alienate organic purists, but Daguin is unrepentant. "Husbandry makes the taste, not the feed," she says. "We want to be ahead of the curve, but not so much that we can't sell enough for it to make economic sense. It's an art."
D'Artagnan's revenue has more than doubled in the past five years, while Web sales have quadrupled, the company says. With big U.S. food companies looking to add natural and organic options to their portfolios, Daguin says she's rebuffed several calls from prospective buyers. "I'm having too much fun," she says. "I like money, but how much do I need? I have a Mini Cooper; I don't need a Mercedes."
D'Artagnan is a natural fit for upscale grocers, and its wares are prominently displayed in stores such as Wegmans Food Markets. You won't find D'Artagnan in Whole Foods Market, however. Daguin says the chain declined to carry her products because of her outspoken support for foie gras pâté, made from the livers of force-fed geese. Whole Foods says it has rigorous quality and animal treatment standards.
The challenge for Daguin will be to find enough supermarket shoppers willing to pay top dollar for her products when cheaper alternatives abound. At Costco.com, grass-fed organic rib-eye from Rastelli Foods is $16.25 a pound. On D'Artagnan's website, pasture-raised boneless rib-eye is almost $28 a pound. "It's a stretch for a customer to go to Walmart looking for duck bacon or quail," says Billy Roberts, a food analyst at researcher Mintel Group. "But in a specialty store, customers are willing to pay a premium for the products. It's a matter of finding the right consumer."
D'Artagnan is eschewing expensive advertising in favor of relying on local buzz generated among shoppers—who increasingly are asking where food is from and how it's raised—as it expands its restaurant sales across more of the country. "We're iconic to chefs, but we're basically unknown to consumers," says President Andy Wertheim, a veteran of Kellogg and Progresso soup. Still, he says, "We think we can compete in the mainstream arena."
The bottom line: About 70 percent of D'Artagnan's sales are to restaurants. The food supplier wants to lower that share.
Before it's here, it's on the Bloomberg Terminal.
LEARN MORE