China's Film Industry Is Gaining on Hollywood
Chinese audiences are growing, more theaters are being built, and the movies are getting better
By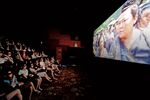 Since mid-July, the biggest movie outside the U.S. hasn't featured a Marvel superhero or dinosaurs from a revamped franchise or even an American action star. It hasn't been an American film at all, but a Chinese animation/live-action fantasy, Monster Hunt, about a baby monster smuggled through ancient China. Directed by Raman Hui, a director of DreamWorks Animation's Shrek the Third, Monster Hunt opened in China on July 16 and immediately broke records: Its Saturday, July 18, tally of $29.8 million stands as the biggest single-day gross for a Chinese film and tops the opening day take of many Western hits, including 2014's Transformers: Age of Extinction, which grossed $27 million on its first day. Ticket sales have reached $211 million, making Monster Hunt the highest-grossing Chinese movie ever and, with a $40 million budget, profitable, too.
Monster Hunt, produced by Hong Kong studio Edko Films, isn't the only domestic hit lighting up Chinese box offices. Superhero parody Pancake Man, directed by and starring popular online comedian Da Peng, has brought in $132 million since opening on July 17—its budget was $13 million. The movie was released by privately owned Wanda Media, the film and TV production arm of Wanda Group, one of the country's biggest conglomerates. The two movies' success reflects both the growth of Chinese audiences and the maturing of the nation's film industry. On July 18 the Chinese box office hit $70.2 million in one day, almost all from local films. "You're seeing Chinese filmmakers getting better at their craft," says Rance Pow, head of the film industry consulting firm Artisan Gateway.
With its mix of government-controlled enterprises and independent companies, the Chinese system looks very little like Hollywood. Longtime Hong Kong producers such as Edko regularly collaborate and compete with mainland giants Wanda, Huayi Brothers Media, and Bona Film Group, as well as the powerful state-owned entities such as China Film Group, which controls the importing and distribution of foreign films and produces its own. Internet companies Baidu, Alibaba, Tencent, and others are getting in on the action as producers and distributors.
All this investment and integration has led to improved scripts and greater diversity in an industry known for martial arts films and period spectacles. Today, feel-good fantasies such as Monster Hunt, which one Hollywood Reporter critic dubbed "a sentimental dollop of easily digestible moral storytelling," succeed alongside comedies like Pancake Man, with Jean-Claude Van Damme as a villain. "There's a growing commercial value and slickness to the Chinese films," Pow says.
Chinese films benefit from state support. The industry is managed by several government-controlled entities, including the State Administration of Radio, Film and Television, the Censorship Bureau, and China Film Group. Moratoriums on foreign productions regularly clear the release calendar of Western blockbusters so domestic films have unfettered access to audiences. And they ensure Chinese movies make up about 55 percent of the annual box office. There are three blackouts annually—during the Lunar New Year/spring festival period in February; in mid-to-late summer, after the first wave of Hollywood summer releases opens in China; and in December. The current blackout is expected to go until late August, when Terminator: Genisys will open, followed by Mission: Impossible—Rogue Nation, Minions, and Inside Out.
China's stock market crash isn't discouraging film fans. "Moviegoing tends to be recession-proof," says Phil Contrino, vice president and chief analyst for BoxOffice.com. "Despite the turmoil in the Chinese economy, people are still going to the movies."
About 15 new screens open daily in China. There are 5,660 cinemas with 28,000 screens serving 1.3 billion people. The U.S. has about 40,000 screens for a population one-fourth the size. Wanda Group is the biggest theater owner in China and the world, with more than 150 venues and 1,300 screens on the mainland. (It's been a big player in the U.S. since 2012, when it bought AMC Entertainment.) From January to March, China built 554 movie houses, with 2,806 screens.
Construction until recently was centered in first- and second-tier cities, with populations of 3 million and higher, Pow says. "So the cinema development is expanding into tertiary markets now, into suburban and rural areas," he says. "When a town gets a new shopping center, they get a new McDonald's, KFC, Starbucks, and a new movie theater." By 2017, China is expected to have about 9,500 theaters and 53,000 screens.
The building frenzy started about a decade ago, says Jonathan Landreth, a former Asia editor of the Hollywood Reporter and now managing editor of Chinafile.com, an online general interest magazine. Until that time, people bought pirated DVDs and stayed at home. "You went to the movies maybe once a year. It was an end-of-year tradition," he says.
In what may be a sign of things to come, China's monthly box office receipts for February passed those of the U.S. for the first time. Powered by the Lunar New Year holiday, the biggest time for moviegoing in China, February's total box office hit $650 million, compared with $640 million in the U.S., according to Chinese research firm ENT Group.

That will start to happen more, say industry analysts, presenting both an opportunity and a challenge for Hollywood studios, all of which are trying to expand in China. Cooperating with state players is essential for foreign studios to succeed. China Film Group, which controls release dates and determines the number of screens a film will play on, took a 10 percent stake in Universal's Furious 7, which opened on a record 5,454 screens on April 12. Thanks to the company's support, the film had no major competition for a month, save for the Johnny Depp flop Mortdecai, which didn't make a dent. Even Avengers: Age of Ultron had to move out of the way, premiering in China almost two weeks after it had opened in most of the rest of the world. Furious 7 is now the highest-grossing film in Chinese history.
Hollywood has been navigating the Chinese market in increasingly creative ways, including by producing more films with Chinese partners and by casting more Chinese actors, such as star Li Bingbing in Transformers: Age of Extinction. Major scenes of that movie were shot in China, and there's even dialogue praising the Chinese state. The private equity firm China Media Capital has struck deals with Warner Bros., DreamWorks Animation, and IMAX, and Shanghai Media Group has signed contracts with Walt Disney, among others. Next year's animated Kung Fu Panda 3 will be produced partly in China, using Chinese animators and designers, via Oriental DreamWorks, a new Shanghai-based animation studio.
"Hollywood makes global products, and for the Chinese market to reach its full potential, Hollywood films and homegrown films will have to thrive side by side," says Contrino. "The growth of the Chinese market means that both industries will be able to reach new levels of success."
The bottom line: Bigger and better local films and growing audiences in China have created a huge movie market to rival Hollywood.
Before it's here, it's on the Bloomberg Terminal.
LEARN MORE