business
$1 Coffees at 7-Eleven Fuel Japan's Surge Into the Java Big Leagues
Aya Takada and Ichiro Suzuki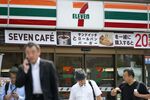 The fastest-growing drinks market in Japan isn't craft beer or fruit smoothies. It's $1 cups of black coffee from the local 7-Eleven.
"Convenience-store coffee is just great, given its low price," said Kiyoshi Fujimoto, a 50-year-old school teacher in Tokyo. He estimates he drinks coffee from the shops locally known as "conbinis" four times as often as from Starbucks Corp., and pays about one-third of the price.
Coffee sales at convenience stores surged 48 percent last year, the fastest-growing part of Japan's beverage market, as $1-a-cup brews boosted consumption to a record. Japan is the world's biggest coffee importer after the U.S. and Germany. Demand per person will eventually be comparable to the U.S. and Europe, said Kazuyuki Kajiwara, general manager at the beverage department of trading company Marubeni Corp.
Bean and product imports reached 459,708 metric tons last year, according to roasters' group All Japan Coffee Association. The biggest suppliers are Brazil, Vietnam and Colombia, government data show. Consumption was an all-time high 449,908 tons last year, the coffee association said.
7-Eleven, which operates 17,600 convenience stores nationwide, plans to boost sales by 21 percent to 850 million cups for the year through February, according to Yasushi Kamata, a company director. FamilyMart Co., the third-biggest Japanese operator of convenience stores, aims to bolster brewed coffee sales 11 percent, said Natsu Takaoka, a spokeswoman.
Most Profitable
Starbucks opened in Japan in 1996, its first market outside North America, and now operates 1,100 stores across the country, James Olson, a spokesman for the Seattle-based company, said in an e-mail. Japanese stores are among its most-profitable, he said. Starbucks doesn't disclose how much coffee it purchases for or sells in Japan, Olson said. Tully's Coffee, also based in Seattle, has 588 stores in Japan, according to the company's website.
About 10 percent of Japan's bean imports supply convenience stores, with 7-Eleven representing about half of that volume, Kajiwara said. Lawson Inc., Japan's second-biggest operator of convenience stores, also brews coffee for sale at 100 yen (81 cents) a cup, the same as 7-Eleven and FamilyMart.
"Salarymen and housewives are saying that coffees at Starbucks" and other chain cafes are too expensive to buy everyday, said Akio Yoshizawa, deputy director of Lawson's merchandising division.
Japan's coffee demand is expected to grow by about 2 percent annually, said Kajiwara at Marubeni, which imports beans for 7-Eleven. Per-capita consumption will expand to 5 kilograms a year from 3.5 kilograms, he said.
'Conbinis' Coffee
"In my office, only instant coffee is available," said Kiyoshi Fujimoto, a teacher in Tokyo. 'When I want to have a good coffee, I escape from the school to get it at a convenience store.''
Coffee brewed by the stores expanded 48 percent in 2014 and sales are set to increase 17.3 percent to 175.9 billion yen this year, according to Fuji Keizai, a research group in Tokyo. Japan's total beverage market shrank 1.5 percent to 4.98 trillion yen in 2014, the researcher said in a May report.
It's not just demand for freshly brewed coffee that's increasing. About 100,000 tons of Japan's total coffee imports were used for production of instant coffee, and a similar amount was used to make canned coffee, according to Kajiwara at Marubeni. Coca-Cola Co.'s Japanese unit and Suntory Beverage & Food Ltd. are the biggest makers of ready-to-drink canned coffee, sold mainly through vending machines.
"Convenience stores have created additional demand," Marubeni's Kajiwara said. "They are selling above-average coffee at the cheapest price in the world."
(To get alerts for commodities columns: SALT CMMKT)
Before it's here, it's on the Bloomberg Terminal.
LEARN MORE