Will the Real Indian Inflation Rate Please Stand Up?
Sandrine Rastello and Manish Modi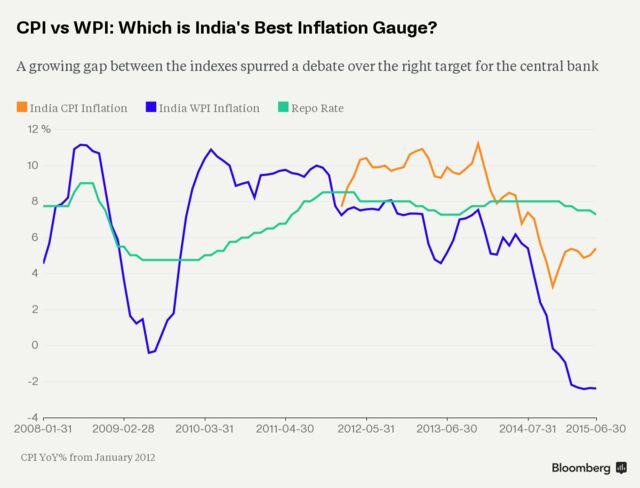 A record discrepancy between India's two main measures of inflation has clouded the outlook for interest rates and spurred debate over the central bank's policy target.
Wholesale prices, at one time the main gauge, are falling - - something that might have triggered a rate cut back in 2013. Yet consumer prices, which are favored by Governor Raghuram Rajan, are climbing more than a percentage point faster than at the end of last year.
"That's what sort of divides the markets right now," said Jyotinder Kaur, an economist with HDFC Bank Ltd. in Gurgaon, near New Delhi. "Those, like us, who are advocating more easing, are looking at the whole-picture inflation," with others "fixated on one particular number."
The widening divergence between the measures spurred Prime Minister Narendra Modi's top economic adviser to call for broadening the basis for monetary-policy decisions. Such a shift would complicate an already tense debate over reshaping the Reserve Bank of India's mission and establishing a monetary policy committee.
The gap has existed since the early days of the CPI index in 2012 and has been exacerbated over the past few months due to the plunge in global commodity prices. WPI focuses on producer costs while CPI helps better monitor services, which account for almost two-thirds of India's economic activity.
The discrepancy exists in China too, where the central bank tends to focus on consumer prices, which often move in the opposite direction to those at the factory gate.
Policy Outlook
Rajan's lowered India's benchmark repurchase rate three times in 2015 to 7.25 percent -- still among Asia's highest. All but one of 14 economists in a Bloomberg survey predict he'll keep it unchanged after a scheduled review on Aug. 4.
However, calls diverge on the room to ease going forward. Economists including those at UBS Group AG, Axis Bank Ltd. and Morgan Stanley see one or more cuts by the end of March, in contrast to counterparts at Goldman Sachs Group Inc. and Nomura Holdings Inc.
Consumer price inflation accelerated 5.4 percent in June from a year earlier and is forecast to increase toward the central bank's 6 percent target by January. Wholesale prices fell 2.4 percent, having declined each month this year.
"The very fact it's been there for six months means that he's not going to turn around at the August meeting and say 'oh my goodness, WPI inflation is really low, I'm going to cut interest rates," said Ed Teather, a Singapore-based economist at UBS, referring to Rajan.
Normal Times?
Near-record-low WPI means inflation-adjusted borrowing costs are "unusually high" for producers, Arvind Subramanian, the finance ministry's chief economic adviser, wrote in the Indian Express newspaper last month. In normal times the focus on CPI "would be completely unobjectionable," he said. "But are these normal times, when the price indicators are, frankly, pointing in dramatically different directions?"
Five-year bonds sold by top-rated Indian companies yield an average 8.5 percent while State Bank of India, the nation's largest, can't lend at interest rates below 9.7 percent. That leads to WPI-adjusted real rates of at least 11 percent in an economy that policy makers say is still recovering.
Rajan, who declined to comment on Subramanian's premises, had previously defended the shift to a CPI target while saying that that aim of policy is to align producer and consumer inflation. CPI is "the basket of goods that the public sees and this determines both their wage decisions or their decisions to push for higher wages," he said on June 2.
The debate may be settled in the coming months as the base effect wears off, wiping away the benefits of falling commodity costs. That means WPI as well as CPI inflation will probably accelerate, according to Nomura economists Sonal Varma and Neha Saraf.
"Both the WPI and CPI data suggest that the period of disinflation is behind us," they said.
Before it's here, it's on the Bloomberg Terminal.
LEARN MORE