pursuits
VW Lowers Sales Forecast as Russia, South America Falter
Christoph Rauwald and Mathieu Rosemain
Volkswagen AG lowered its global sales forecast for this year amid growing concern among automakers about the slowdown in China, the world's biggest car market.
Deliveries will be about at the 2014 level, the Wolfsburg, Germany-based carmaker said Wednesday in a statement that also cited challenging markets in Russia and South America. It had previously forecast a moderate increase in 2015 vehicle sales.
VW's deliveries in China dropped for the first time in a decade in the first half. The year is shaping up to be no better for the industry as a whole, as China's economic slowdown and volatile stock market coincide with curbs on auto registrations in some areas. Carmakers may see Chinese sales drop for the first time since 1998, Ford Motor Co. said Tuesday.
"It had to be expected to some extent that the sales guidance needed to be cut, given the recent market slowdown," said Juergen Pieper, a Frankfurt-based analyst for Bankhaus Metzler. "The others aren't faring any better, if you look at Toyota or Peugeot."
PSA Peugeot Citroen, Europe's second-biggest carmaker after VW, also cited the tough market in China when it reported results today. Despite more than tripling its first-half earnings, the French company didn't raise its forecasts. Chief Executive Officer Carlos Tavares pinned that on an "unstable international environment" and said a "price war" is looming in China.
VW saw profit from its two Chinese joint ventures fall 17 percent in the second quarter to 1.15 billion euros ($1.27 billion), based on calculations by Bloomberg News.
China Slowdown
Full-year profit from China is forecast to come in "slightly lower" than in 2014, and a market improvement "will take time," Chief Financial Officer Hans Dieter Poetsch said in a telephone conference with analysts.
VW currently anticipates total Chinese market growth of 3 percent to 5 percent and sees a trend toward smaller cars, which tend to be less profitable than larger vehicles. The German company expects its vehicle sales in China to be roughly at last year's level.
"We are keeping a very close watch on global macroeconomic trends, especially where there are uncertainties such as in the Chinese, Brazilian and Russian markets," VW CEO Martin Winterkorn said in a statement.
The preferred shares fell 2.3 percent to 186.35 euros in Frankfurt, extending the decline since hitting a 12-month high in March to 29 percent.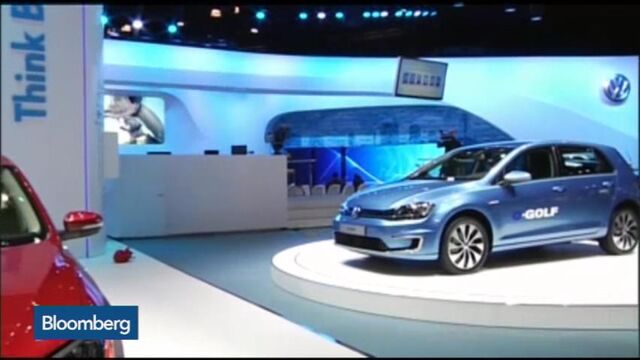 Read this next:
Weaker Profitability
Even with tougher markets, operating profit in the second quarter increased 4.9 percent to 3.49 billion euros, underpinned by gains at the Porsche and Audi luxury-car brands. That failed to match a 9.9 percent increase in revenue. The operating return on sales consequently declined to 6.2 percent from 6.5 percent. VW stuck to a full-year target range of 5.5 percent to 6.5 percent.
The market woes come at a delicate time for the world's second-biggest auto manufacturer, which was shaken earlier this year by a power struggle that led to Chairman Ferdinand Piech's sudden resignation.
VW is trying to boost profit by 5 billion euros before 2018 at its biggest unit, the namesake VW brand. Winterkorn has said he'll streamline the group's rigid management structure, which has made it slow to adapt to trends such as the surge in global SUV demand. The CEO intends to present his plan by the end of September.
The VW brand improved its first-half profit margin to 2.7 percent of sales from 2.1 percent, helped by its efficiency program and demand for the Passat and Golf Sportsvan models. Still, that remains a far cry from a target of more than 6 percent of sales by 2018, and markets for VW and other carmakers are now tougher.
"We will be facing headwinds from the Chinese market as well as in Latin America in the second half," Peugeot Chief Financial Officer Jean-Baptiste de Chatillon said. "We must remain concentrated on improving results."
(Updates with VW CFO comment in the seventh paragraph; closing share price in 10th.)
Before it's here, it's on the Bloomberg Terminal.
LEARN MORE