This Remote Island Is the Last Place Pilots Want to Land a Plane
The Air Force calls Shemya Island "a place to land in the middle of nowhere"
By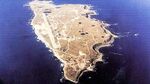 Every commercial airline flight has a plan for diverting if necessary. But few pilots ever consider Shemya Island, a remote U.S. Air Force outpost 1,500 miles southwest of Anchorage, because there's so little infrastructure. The rocky island, about two miles by four miles, has a 10,000-foot landing strip—large enough for the biggest military cargo jets—and pretty much nothing else.