Post-Coup Thailand Sees Economic Slump Putting Pressure on Junta
Suttinee Yuvejwattana and Chris Blake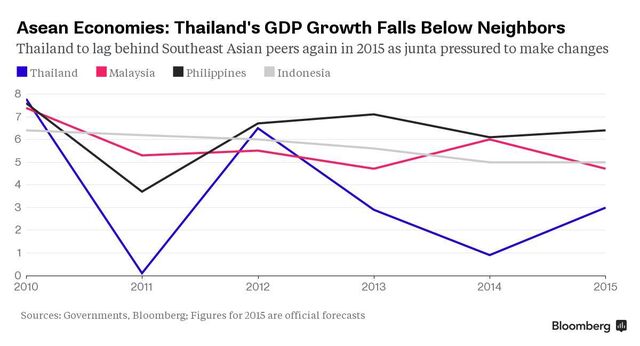 Thailand's government is under increasing pressure to overhaul the cabinet and bolster the economy as falling exports, eroding consumer confidence and a slump in manufacturing portend one of the region's slowest expansions.
The finance ministry this week cut its forecasts for exports and gross domestic product growth for a third time this year. Prime Minister Prayuth Chan-Ocha, who seized power in a military coup in May 2014, has said he may reshuffle the cabinet, half comprising military personnel with little experience in their portfolios.
"With the economy in such bad shape, the government is under pressure to do something," said Kampon Adireksombat, an economist at Tisco Securities Co. in Bangkok. "The government should reshuffle the cabinet to boost confidence and come up at least with short-term measures to boost the economy."
For a country that was once a manufacturing powerhouse, the decline is telling. The factory output index has fallen every month but one since March 2013, while exports have declined every month this year and are forecast to contract for a record third year. Meanwhile, the junta hasn't yet finalized a new constitution that it says is needed before an election is held, with critics saying the draft risks deepening a political divide.
Thailand's financial markets offer little respite. It is the only major equity market in Asia that has posted outflows this year, while corporate debt sales look set to miss last year's record. The baht has weakened more than 6 percent against the dollar in the past six months, the worst performer among major currencies in Asia.
Social Pressure
The junta seized power with a promise to bridge a decade of political schism, end corruption and bring happiness. While Prayuth has said he'll return the nation to civilian rule once there is no dissent and the constitution is in place, there is no firm date yet for an election, and the risk of unrest rises the longer he stays on and as the economy stutters.
He faces an uphill task as far as the economy is concerned. A slowing China is hurting exports across the region, while Thailand's elevated household debt is weighing on domestic consumption. To add to its woes, the country is suffering from its worst drought in more than a decade, with the brunt of the damage in agriculture, which makes up 7 percent of GDP, according to Capital Economics Ltd.
While the government has pledged the highest proportion of investment in seven years in its budget for the fiscal year starting October 1, it has failed to make much headway on a planned investment program in transport infrastructure.
"All efforts to spur growth have been hampered," said Vishnu Varathan, a Singapore-based economist at Mizuho Bank Ltd. "Either by legacy issues or capacity issues and to some extent, uncertainty issues."
Very Subdued
The finance ministry cut its forecast for GDP growth this year to 3 percent, which could be the slowest among developing nations in Asia. Exports -- which make up the equivalent of more than half the economy -- may contract 4 percent, it said.
"Growth prospects look very subdued compared to other countries in the region, and in the event of a serious political shock, the country could quickly spiral into recession," said Sarah Fowler, a London-based analyst at Oxford Economics. "The political situation will inhibit efforts to improve the working of the economy."
Local media have said Prayuth should appoint Somkid Jatusripitak, who was a deputy prime minister and finance minister in the government of former premier Thaksin Shinawatra, and has been a member of the junta's advisory board since the coup. They've suggested Pridiyathorn Devakula, the deputy prime minister in charge of economic affairs, Finance Minister Sommai Phasee and Commerce Minister Chatchai Sarikulya may all be replaced.
Public Perception
Prayuth on Monday said he won't be pressured to make changes "just because somebody is at fault or because of social pressure."
A reshuffle would likely shore up his support among the middle class, though it "will be less about actual economic performance and more to do with public perception and policy coordination at the civil service level," said Ambika Ahuja, a London-based analyst with political-risk adviser Eurasia Group.
"The government is unlikely to resolve structural economic issues that include an overreliance on agricultural exports and a failure to pursue policies that encourage manufacturing companies to move up the value-added chain," she said.
Before it's here, it's on the Bloomberg Terminal.
LEARN MORE