Macquarie: Low Oil Prices Pose a Much Bigger Risk to Offshore Projects Than to Shale
Offshore projects carry much higher break-even points
By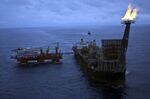 Since oil prices began trending lower, shale drillers have cut capacity and grabbed headlines.
But riskier—and more expensive—offshore drilling hasn't been so quick to slow down or grabbed as much attention.
Part of the reason has been that the offshore rigs represent a lot of time and money invested, offering potential for large profits when oil prices were above $100 a barrel because of substantially higher production capacity. But with Brent still trading around $47 a barrel, vs. the more than $100 it fetched more than a year ago, companies are finally idling deepwater drill ships.
The number of idle drill ships has more than tripled since the beginning of last year, to 31, or about one in every four such vessels at sea around the globe, according to data from Bloomberg. About a third of those unused ships are in the Gulf of Mexico and the Caribbean. Of the 190 deepwater platforms around the world, 46 are idle, vs. 39 in early 2014.
A new note from Macquarie's Vikas Dwivedi underscores the challenge now facing offshore projects, saying "Offshore projects even more at risk than U.S. shale." Why? Because the projects' break-even points are much higher, given all the investment that goes into them.  You can see the breakdown in the following  chart.

Macquarie's latest forecast for oil prices could mean more bad news for offshore drillers. The firm doesn't expect Brent to rise above $60 a barrel until late this year or early 2016. It is currently hovering around $53.51. In the longer term, Macquarie expects the Brent price to remain under $100 through the end of 2017.
Here's a chart showing the firm's outlook, along with consensus expectations and the forward curve, neither of which point to oil going back to $100 at any time soon.