Harper Remains Mum on Prospect of Early Canada Election Call
Theophilos Argitis and Josh Wingrove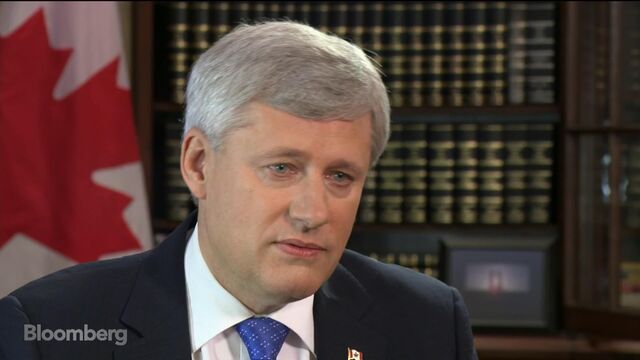 Stephen Harper isn't offering any hints on when he will formally begin the campaign for his fourth term as Canada's prime minister, though he said the election date itself is set in stone.
"I don't speculate, and I particularly don't speculate on my own actions," Harper said in an interview Wednesday at his Ottawa office. "Obviously, there is an important decision coming up for Canadians Oct. 19."
Recent reports from Reuters and the Huffington Post suggest Harper's Conservative government is considering beginning the campaign as early as this weekend, which would make it the longest electoral contest in Canada since 1872.
The Conservatives, who took power in 2006, face a tight three-way race in the fall vote against the left-leaning New Democratic Party and the centrist Liberals. According to national averages compiled this week by polling aggregator ThreeHundredEight.com for the Canadian Broadcasting Corp., the Conservatives and the NDP are tied at 31.6 percent support, with the Liberals at 26.1 percent.
Starting the election early would increase the spending limit for political parties beyond the C$25.4 million ($19.7 million) cap on a standard five-week campaign. It would also trigger strict limits on advertising from special interest groups, such as labor unions.
The minimum length for a federal election campaign in Canada is 37 days, including the day it is called and the day ballots are cast. For the Oct. 19 vote, the prime minister can request the legislature's dissolution at any time before Sept. 13. If the election were called this Sunday, the campaign would last 79 days; each of the last two elections were 37 days long.