Fed Says Labor Market Improves as It Moves Toward Rate Rise
Christopher Condon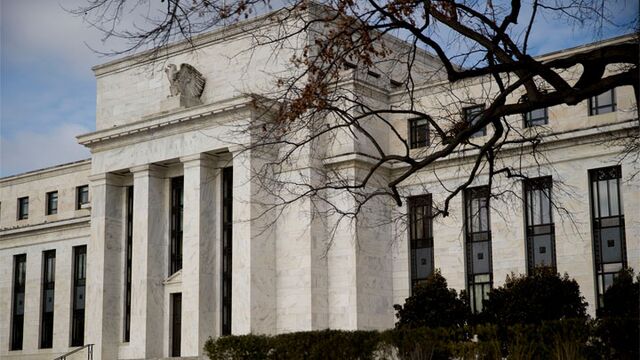 Federal Reserve policy makers said the job market has made further gains, keeping them on a path to raise interest rates this year for the first time in almost a decade without providing a clear signal on the timing of liftoff.
"The labor market continued to improve, with solid job gains and declining unemployment," the Federal Open Market Committee said in a statement Wednesday in Washington. It dropped the modifier "somewhat" from its description of the decline in labor-market slack.
With Chair Janet Yellen and her fellow policy makers saying their decisions are "data dependent," the focus turns to figures on growth, jobs and inflation that will help determine whether the Fed raises rates in September, as many economists expect, or later in the year.
"The committee is keeping the door open for rate hikes later this year, not necessarily opening it further or closing it," said Michael Gapen, chief U.S. economist for Barclays Plc in New York and former Fed Board economist. "Labor markets have improved further, and they need to see a little more improvement to be ready to go."
Stocks extended gains, with the Standard & Poor's 500 Index climbing 0.7 percent to 2,108.57 as of 4:08 p.m. in New York. Treasuries remained lower, with the 10-year note yielding 2.28 percent, up three basis points, or 0.03 percentage point, from late Tuesday.
One-Word Change
The Fed made a one-word change to its language on conditions that would justify a rate increase: It needs to see "some further improvement in the labor market," adding the modifier "some," and it must be "reasonably confident" inflation will move back to its 2 percent goal over the medium term.
It also dropped a sentence saying energy prices appeared to have stabilized. Some economists took that change as a signal of heightened concern over inflation that's trending lower as energy prices decline.
"It was one step forward and one step back," said Brian Jacobsen, who helps oversee $250 billion as chief portfolio strategist at Wells Fargo Advantage Funds in Menomonee Falls, Wisconsin. "The Fed only needs to see a little more improvement in the labor market to justify a rate hike, but the recent decline in commodity prices has marginally dinged their confidence in the inflation outlook."
The Fed also said housing "has shown additional improvement," while capital spending and exports "stayed soft."
GDP Report
The next read on the economy will come Thursday with data on second-quarter gross domestic product. Economists project the report will show a 2.5 percent pace of expansion, confirming Yellen's view that a first-quarter contraction was transitory.
Fed officials have been heartened by job gains as unemployment fell to a seven-year low of 5.3 percent in June. At the same time, inflation has lingered below their goal for three years, with the Fed's preferred gauge rising just 0.2 percent in May from a year earlier.
Economists surveyed last week said the odds of a rate increase at this meeting were virtually zero, while the chance of a move in September was around 50 percent.
The committee has kept the benchmark overnight federal funds rate at a record low of zero to 0.25 percent since December 2008, in the midst of the worst recession since the Great Depression.
China Slowdown
A slowdown in China that has rocked global equity markets could weaken the case for an interest-rate rise this year, though there was no change in the Fed's language on international developments.
Concern over China's growth outlook has helped drive the Bloomberg Commodity Index almost 8 percent lower since Fed officials last met in June. That, in turn, could push inflation down even further.
The FOMC is next scheduled to gather on Sept. 16-17, with additional meetings this year set for October and December.
Traders are pricing in a 39 percent probability that the Fed raises rates at or before the September meeting, little changed from before Wednesday's gathering. Those odds are based on the assumption that the effective fed funds rate will average 0.375 percent after liftoff.
The median estimate of the 22 primary dealers surveyed by the New York Fed is that the fed funds rate will average slightly less, or 0.35 percent, after the first increase.
Read this next:
Before it's here, it's on the Bloomberg Terminal.
LEARN MORE