Death of Cecil the Lion Prompts Calls for Trophy Hunting Ban
Kevin Crowley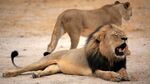 Animal-rights activists are pushing for African countries to stop trophy hunting after a 13-year-old collared lion named Cecil was allegedly killed without a permit in Zimbabwe.
U.K.-based charities Four Paws and Lion Aid called for an immediate ban on lion exports from African countries that allow hunting. Catherine Bearder, a member of the European Parliament, said the U.S. and EU should follow Australia in placing a moratorium on importing lion parts.
"This was a heinous crime but hopefully it will open the dialog about trophy hunting and help eliminate it," said Claire LaFrance, a spokeswoman for Four Paws. "A ban on transporting lion parts would restore dignity to this wild, majestic animal."
The industry in neighboring South Africa, the region's biggest trophy-hunting destination, is worth about 6.2 billion rand ($495 million) a year, according to the government's estimates. It has helped boost animal numbers to the highest since the 19th century, research by the University of Pretoria shows.
Cecil was killed this month outside Hwange National Park in Zimbabwe, where he was a star attraction among photo-tourists. A professional hunter, Theo Bronkhorst, was granted bail of $1,000 after appearing in a court on Wednesday for illegally helping a U.S. tourist, Walter Palmer, shoot the lion. The owner of the farm on which the animal died is due to appear in court on Thursday. The lion was killed by a bow and arrow and wasn't listed on the hunting permit, according to court documents.
Transporting Carcasses
Cecil was collared and monitored as part of an Oxford University research project.
Palmer, from Minnesota, said in a statement to the Star Tribune he believed he had legally hunted the animal and that he didn't know it was collared.
Celebrities including Ricky Gervais, Candice Swanepoel and Jimmy Kimmel condemned the killing. The story became one of the most-popular topics of conversation on social-networking site Twitter.
Politicians in some countries have been tightening rules on importing animal parts. In February, the EU changed import permits to verify that hunting trophies are legal, while Australia in March banned the transport of lion carcasses. Emirates Airline and Deutsche Lufthansa AG said this year they wouldn't permit customers to transport hunting trophies.
Tarnishes Image
A ban on trophy hunting would hurt tourism and, contrary to animal-rights activists' claims, would damage conservation, according to the Professional Hunters' Association of South Africa.
"Any illegal incident, as is alleged in this case, obviously tarnishes the image of trophy hunting," Adri Kitshoff, Phasa's chief executive officer, said by phone. "That doesn't change the value of legal, regulated trophy hunting."
South Africa now has 24 million large mammals, up from fewer than 600,000 in the early 1960s, boosted by the growth in hunting, according to Wouter van Hoven, an emeritus professor at the University of Pretoria.