How Having the Song of the Summer Can Ruin Your Career
After having a huge hit in 2014, Iggy Azalea had to cancel her tour and barely has a career. How winning the warm-weather charts can ruin a musician
By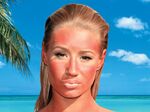 By now, you've undoubtedly heard of rapper Iggy Azalea, the 25-year-old Australian blonde with the face of a model and a disproportionate derrière that she shakes proudly in music videos and jokes she can't squeeze into a normal-size dress. But the real reason you know Azalea is that her song Fancy—with its brilliantly inane chorus, "I'm so fancy/You already know/I'm in the fast lane/From L.A. to Tokyo"—was America's No. 1 hit for seven weeks last year. It outperformed John Legend's All of Me and Pharrell Williams's Happy, ultimately becoming the Song of Summer for 2014.
Summer has long been a brisk season for the music business, and it has often featured an unofficial anthem, but the Song of Summer is a recent phenomenon. Five years ago, Billboard turned the coronation of a single hit into an event when it created its Songs of Summer chart, tracking releases from Memorial Day to Labor Day. The magazine also pored over its historical data and found the most popular jams of the previous 25 summers, from Tears for Fears' Shout in 1985 to Rihanna's Umbrella in 2007 and Katy Perry's I Kissed a Girl in 2008.
Now prognosticators from NPR to the least trafficked music blogs studiously parse each year's contenders. In May the streaming service Pandora released a list of a dozen leaders. "A single song can capture the vibe of the summer and leave an impression for years to come," Pandora declared on its in-house blog. In late June, Spotify created a midsummer list, based on users' plays and the "feel-good" nature of the picks. "It's become the March Madness of music," says Maura Johnston, a founding editor of the music site Idolator.
Yet recent history suggests that having the Song of Summer is more of a curse than a blessing. This decade's winners, such as Carly Rae Jepsen (Call Me Maybe, 2012) and LMFAO (Party Rock Anthem, 2011), might be generously referred to as two-hit wonders. Azalea's now fighting against the same fate. Since her success, she's been accused of being a fraud, a racist who misappropriates black culture, and a homophobe. Every one of her subsequent releases has underperformed Fancy. Recently she had to postpone, then cancel, an elaborately conceived arena tour.
Azalea, who declined to comment, brought some of these tribulations on herself. She said things she shouldn't have, often long ago on social media. And she didn't have the good sense to apologize when some of them publicly resurfaced. But having the Song of Summer had something to do with it, too, because it makes an artist quickly famous in a way she may not be ready for.
The casual listener might think Azalea materialized out of nowhere last year, but that's not really true. Born Amethyst Amelia Kelly, she grew up in Mullumbimby, on Australia's Gold Coast. As a kid, Azalea idolized black American rappers like Tupac Shakur. "White chick on that Pac s---," she has rhymed. "My passion was ironic, and my dreams were uncommon." She came to the U.S. when she was 16, spending time in Houston, Miami, and Atlanta, trying to make it as a rapper. Nothing happened until she moved to Los Angeles in 2010, at age 20, and started haunting the offices of Universal Music Group. "She would hang out in my office and pick my brain," says Chris Anokute, a talent scout at the company's Def Jam Recordings imprint. He wanted to sign her but couldn't persuade his bosses.
Azalea became an underground curiosity in 2011 when she recorded a mixtape, Ignorant Art, and released it on the Internet. "If the white women of the world can possibly produce one superstar rapper, Iggy Azalea could be it," the critic Touré wrote in the New York Times. Others objected to Azalea's borrowing of African American culture in the same way they had with Eminem and, more recently, Macklemore. Her most insistent critic was Azealia Banks, a black female rapper of roughly the same age and sensibility, who dubbed her "Igloo Australia."
Still without a record deal, Azalea kept her career alive by putting out mixtapes and playing college campuses. In 2012 she took a meeting with Sarah Stennett, chief executive officer of Turn First Artists, a London management company whose clients include other young female artists such as Rita Ora and Ellie Goulding. Stennett persuaded Azalea to come with her to Wales to work with the Invisible Men, a team of producers known for crafting radio hits. In the studio where Queen conjured Bohemian Rhapsody in 1975, they recorded tracks that had a softer aesthetic and more Top 40 potential.
When Anokute heard the results, he says he "e-mailed every top executive at Island Def Jam and said, 'She's a star! We have to sign her!' " Def Jam unveiled Azalea's first album, The New Classic, in April 2014. Its biggest song, Fancy, featured the rising British singer Charli XCX and hit No. 1 on the Billboard Hot 100 on June 7. "It's all timing," says Gary Trust, Billboard's co-director of charts. "It was basically No. 1 for June and most of July."
While Azalea was adjusting to her fame, she might have considered what happened to Robin Thicke, the Canadian American R&B singer whose Blurred Lines was 2013's Song of Summer. Almost as soon as he peaked, people went after him. The Daily Beast called the song's chorus—"I know you want it"—kind of "rapey." Thicke seemed intent on providing more evidence of his sleaziness, miming a canine sex act with Miley Cyrus at the MTV Video Music Awards. Johnston argues that Thicke's tar-and-feathering exemplifies the habit of online music writers to take down artists, especially Song of Summer winners. "It's not enough to say this song is really good," she says. "That doesn't get enough traffic." In November 2013 the family of the late Marvin Gaye accused Thicke and Pharrell, his co-writer on Blurred Lines, of plagiarism. (Eventually, a Los Angeles jury sided with the family.) In July 2014, when Thicke released Paula, an album dedicated to his estranged wife, it flopped.
Azalea's trajectory has been eerily similar. As Fancy crested, bloggers and other rappers questioned her authenticity with renewed vigor. They had ammunition: Some tweets had reappeared in which Azalea insulted blacks, Hispanics, Asians, and gays. The narrative shifted. Azalea wasn't just ripping off black artists; she was possibly a bigot. That would have been a good time for a mea culpa. Instead, Azalea made an awkward plea for sympathy. "They don't say that stuff about Macklemore," she told Vanity Fair. "It has 100,000 percent to do with the fact that I have a vagina." Her critics pointed out that people did question Macklemore's credibility. "Iggy Azalea: Dumb or Evil?" asked the feminist website Jezebel.
Anokute, who's no longer at Def Jam, is appalled by Azalea's vilification. "She is not misappropriating black culture," he says. "She is a white Australian rapper. She has a right to rap if she wants to. She has a right to be a voice in the culture." Still, the online attacks torpedoed Azalea's sales. Her subsequent single, Black Widow, reached No. 3, but none of her other songs cracked the Top 10. "She's said some things that probably riled some people," says Billboard's Trust. "It didn't help. That much is clear."
Last December, Azalea announced her Great Escape arena tour, which would kick off four months later. The tour was to be masterminded by Jamie King, designer of Madonna's elaborate 2006 Confessions Tour, which grossed $194 million, making it one of the most successful ever by a female artist. But a month before it was scheduled to start, Azalea moved it to fall. Then, in May, she canceled it altogether, saying she wanted to rethink her music and imagery. Others suspected she wasn't able to fill the stadiums. "Someone can have a really big hit on the radio, but no one wants to see them live," says Gary Bongiovanni, editor-in-chief of Pollstar magazine, which covers the concert business.
There was one performance Azalea didn't cancel. In May the Delta Foundation, a Pittsburgh LGBT group, announced it had booked her to headline its pride event on June 13. That plan exploded when local activists organized a protest saying that hiring the singer was insensitive to queer and transgender people of color. The boycott became a citywide cause. "If you combine the cluelessness of Iggy Azalea with the cluelessness of the Delta Foundation, it was the catalyst for a major public backlash," says Bruce Kraus, president of the Pittsburgh City Council. On June 8, Azalea canceled her appearance and issued an uncharacteristically subdued apology. "I don't know if we had a reaction one way or another," says Gary van Horn, president of the Delta Foundation.
Back in L.A., Azalea's now trying to salvage her career. She's reportedly in the studio working on a second album. "All she has to do is have another hit, and everybody will be back on board," says Brian Scully, a publicist who worked with her in her pre-Fancy days. That may be tough. Azalea and Britney Spears recently released Pretty Girls, a "girl power" song like Fancy. It peaked at No. 29 on the Billboard Hot 100 and was eclipsed in late June by Wiz Khalifa's See You Again and Taylor Swift's Bad Blood.
A star like Swift may be better equipped to handle the scrutiny. But even she's not immune to the curse. She recently had to apologize to rapper Nicki Minaj, whom she mistakenly accused on Twitter of taking a swipe at her Bad Blood video. It was strange to see Swift stumble, even momentarily. Then again, it's summer.
—With Sarah Grant
Before it's here, it's on the Bloomberg Terminal.
LEARN MORE