Blankfein Sees Strong U.S. Market, Jolt From Fed Rate Hike
Michael J. Moore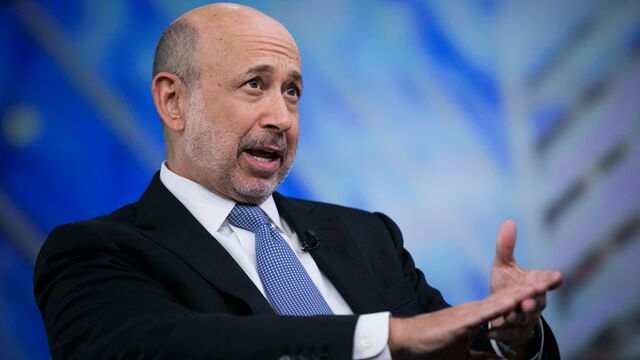 Goldman Sachs Group Inc. Chief Executive Officer Lloyd C. Blankfein said U.S. markets are poised for prolonged growth and will quickly move on after a jolt from the Federal Reserve's first interest-rate increase since 2006.
"We are in for a longish, positive market," Blankfein said Wednesday in an interview on Bloomberg Television. "Since the financial crisis, especially in this country, there were a lot of problems, but we chewed through them. Consumers have deleveraged, the banking system has deleveraged, we got the blessing of low energy prices, housing prices started to stabilize and move higher."
Blankfein, starting his 10th year as Goldman Sachs CEO, spoke in a joint interview with former New York City Mayor Michael Bloomberg that also covered China's policy challenges and 2016 U.S. presidential candidates. Blankfein, 60, said he would support a moderate who's open to compromise, without naming a candidate.
He expressed mixed views when asked about his own ambitions for entering government work. "It would be an attractive thing to do, but a very unattractive place to get to," Blankfein said.
The CEO also said a rate increase from the Fed will still leave the economy facing lower interest rates than usual, with improving growth. The central bank will raise its target rate to 0.5 percent this quarter, according to the median forecast of 74 economists in a Bloomberg survey.
'Smelling Salts'
"It will be jarring when we see an interest-rate hike because we haven't had one for some time, and then I think people will get out the smelling salts, take a big sniff and recover," Blankfein said. "If we end up with interest rates at half a percent or even if they went over time in the near future to 1 percent, it will only be because the growth rate is at trend growth or maybe even higher, and that will still be substantially easier financial conditions than we usually have."
Blankfein and Bloomberg, the founder and majority owner of Bloomberg News parent Bloomberg LP, spoke after an event for the investment bank's 10,000 Small Businesses program. Bloomberg, who spent 12 years as mayor of the largest U.S. city, said the country's economy continues to show progress even as elected leaders fail to tackle long-standing issues such as tax and immigration policy.
"We still have the same problems, we keep kicking the can down the road, but we do seem to be able to live with that," Bloomberg said.
Before it's here, it's on the Bloomberg Terminal.
LEARN MORE