Twitter Shares Slump as Executives Say Growth Will Take Time
Sarah Frier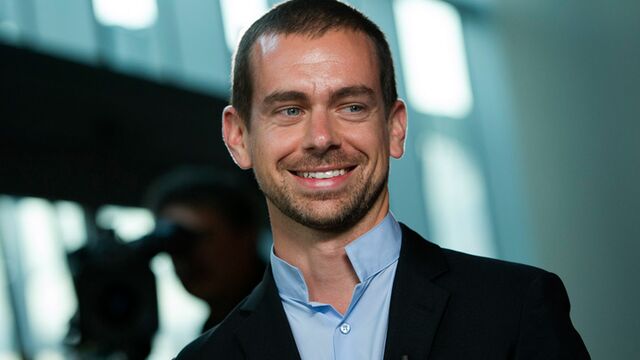 Twitter Inc. executives had a clear message for investors on Tuesday: We have a lot of work to do, and don't expect great progress anytime soon.
After reporting quarterly sales that topped estimates, interim Chief Executive Officer Jack Dorsey and Chief Financial Officer Anthony Noto struck a critical tone, saying user growth won't improve until the social-media company reaches a mass market -- something that will take a mixture of product improvements and marketing. The company's efforts so far have had minimal success, they said. Shares dropped 11 percent in extended trading, after climbing as much as 12 percent following the earnings release.
As Dorsey works to update Twitter's offerings to attract a broader range of users, its sales team has been making deals -- such as one with Google Inc. -- to help advertisers use the site more effectively. While Noto said the company is adding marketing clients, it doesn't expect to see "sustained, meaningful" growth in monthly users for a considerable period. Users of the main application rose by just 2 million from the prior quarter -- a gain of less than 1 percent.
"Investors demand a re-acceleration of user growth," said Paul Sweeney, an analyst at Bloomberg Intelligence. "We did not see that this quarter to any notable degree."
The stock dropped as low as $31.90 in late trading. Before the report, shares of San Francisco-based Twitter rose 5.3 percent to $36.54 at the close in New York. They've gained 1.9 percent this year.
CEO Search
Former Twitter CEO Dick Costolo was replaced this month on an interim basis by co-founder Dorsey, who also runs Square Inc., a mobile-payments company. Twitter is conducting a search for a permanent CEO, and has ruled out Dorsey as long as he stays full time at Square.
On Tuesday, Dorsey said there was no update on the search for a new leader. When asked if he wanted the job, he declined to answer.
"I'm not focused on answering that question," he said in an interview. "I want to make sure I'm doing whatever it takes to make Twitter successful." He also dodged a question about whether he would remain CEO of Square.
In the second quarter, revenue rose 61 percent to $502.4 million, the social-media company said Tuesday in a statement. That exceeded analysts' average projection for $481.9 million, according to data compiled by Bloomberg.
Twitter's net loss narrowed to $136.7 million, or 21 cents a share. Profit excluding certain items was 7 cents, compared with the 4 cents analysts estimated.
Bigger Rivals
On a conference call, executives quashed any initial optimism generated by the report by confronting Twitter's underlying problem: It's much smaller than the competition. The company today reported 316 million monthly users, while Facebook Inc.'s social network has 1.4 billion. Twitter recently started counting feature-phone users in emerging markets as part of its tally. Without that extra boost, Twitter's user count was 304 million.
Noto said Twitter changed its tone on the call because growth slowed so meaningfully, the company wanted to explain how it's working to address the deceleration.
"In the past we may not have had the growth that investors wanted us to have, but it was still quite strong. And this quarter we barely had any growth."
The company is working to introduce a marketing campaign to explain the value of using Twitter to the masses, Noto said. One problem, though, is that Twitter doesn't have a head of marketing. Noto said a search is wrapping up, with some good candidates being reviewed.
Attracting Users
In the time since Twitter went public in November 2013, growth has stagnated while rival social applications, including WhatsApp and Facebook Messenger, drew hundreds of millions more people. In response, the company has increased its focus on attracting people who don't have accounts.
One current plan, internally named Project Lightning, is meant to create channels for whatever is happening live, including videos running simultaneously with what's showing on television. The goal is to bring in visitors who might want to experience a live event or watch news unfold in real time. It could also open up new opportunities for advertisers.
Still, in the past year Twitter has made many promises about new tools that haven't yet contributed to its quarterly results. Investors are concerned that Dorsey won't provide meaningful change at a company in need of a shakeup.
Twitter said third-quarter sales will be $545 million to $560 million, in line with analysts' average projection of $556.6 million. For the full year, the company forecast revenue of $2.2 billion to $2.27 billion, compared with a previous company estimate of $2.17 billion to $2.27 billion.
The social-media company has faced some turnover internally amid the CEO transition. Today, two product executives announced their departures. Todd Jackson, who helped Twitter debut its Highlights product, is leaving for Dropbox Inc., while Christian Oestlien, who helped drive growth, is going to Google's YouTube.