Under Cover of War on Jihadists, Turkey Settles Score With Kurds
Benjamin Harvey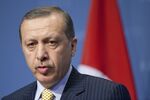 Just weeks after his grip on power looked to be slipping, Turkish President Recep Tayyip Erdogan is widening the net in an offensive against militants to root out political opponents and shore up his power base.
Erdogan called on Tuesday for parliament to lift the immunity from prosecution of lawmakers from the Kurdish party linked to the militant group PKK. That would pave the way for prosecutors to investigate alleged terrorist offenses.
Turkey is striking PKK insurgents at home and in northern Iraq while bombing Islamic State in Syria, sending financial markets plunging. Erdogan, 61, is positioning himself to benefit from the crisis. The escalation comes seven weeks after the pro-Kurdish HDP won unprecedented support in Turkish elections, stripping the party founded by Erdogan of its parliamentary majority for the first time in 13 years.
"For all those who believed that a coalition opened the chance to sideline Erdogan, there was clear disappointment," said Peter Schottmueller, who helps manage $17 billion as the head of emerging-market fixed income at Deka Investment GmbH in Frankfurt. "All actions that strengthen Erdogan's position are detrimental for Turkey's risk profile."
The collapse of a two-year truce with the PKK has battered markets. The lira closed at a record low of 2.7528 against the dollar on Monday before paring losses the next day, gaining 0.2 percent. Borrowing costs jumped, with 10-year government bond yields surging as much as 71 basis points in the past week to breach 10 percent for the first time since September.
Price to Pay
The governing AK Party requested a prosecutor investigate Kurdish leaders, Deputy Chairman Abdulhamit Gul said. HDP is the latest group to cross Erdogan after his backlash against a corruption probe in 2013 landed many opponents in jail.
With coalition talks going nowhere since the June 7 election, Erdogan could order a repeat vote later this year. The result made it impossible for his allies to pass legislation he's requested to change the constitution and transfer executive power from the prime minister to the presidency, a traditionally ceremonial office.
"I'm against shutting down political parties, but executives of this party should pay," Erdogan said at a press conference in Ankara before a trip to China. "The Turkish state has the power to make so-called politicians and so-called intellectuals pay for the blood of its martyrs."
Ocalan Support
HDP Co-Chairman Selahattin Demirtas responded to Erdogan's clampdown by saying his party would submit a motion to lift the immunity of all Turkey's 550 lawmakers at an emergency parliament session on Wednesday.
"Those who for 13 years have shouted about the will of the people have preferred to establish a junta," Demirtas told his party in parliament on Tuesday. "What's our crime? To receive 13 percent of the vote."
HDP's leaders don't deny their links to the PKK. They credit its leader Abdullah Ocalan, who is imprisoned on an island outside Istanbul, as the party's founder and source of its success as a national political movement.

Erdogan's rejection also marks a dramatic turnaround. As prime minister, he was the architect of starting negotiations with Ocalan to end four decades of fighting, and was the primary proponent of the peace process.
Turkey's combined military offensive against Islamic State and the PKK now risks putting it at cross-purposes with the U.S. While Turkey views Kurds fighting Islamic State in Syria also as terrorists, the U.S. and its allies have supported them with weapons, air strikes and logistics.
Selling Turkey
Citigroup Inc. and Bank of America-Merrill Lynch were among investment banks saying they were selling Turkish assets. Aberdeen Asset Management Plc, which oversees about $12 billion in emerging market debt, said on Monday that it wasn't sure it would be returning to the country anytime soon.
The collapse in the Kurdish peace process leaves Turkish markets "disproportionately highly exposed to a shock," according to Wolf-Fabian Hungerland, a Hamburg-based economist at Berenberg Bank.
"A chance for domestic reconciliation with the Kurds against a common enemy evaporated," Hungerland said, referring to the fight against Islamic State. "Instead, Turkey now participates in a triangular war and it looks like there is no quick route to peace again."
Read this next: