South Korea Says MERS Outbreak That Hit Economy No Longer Worry
Sam Kim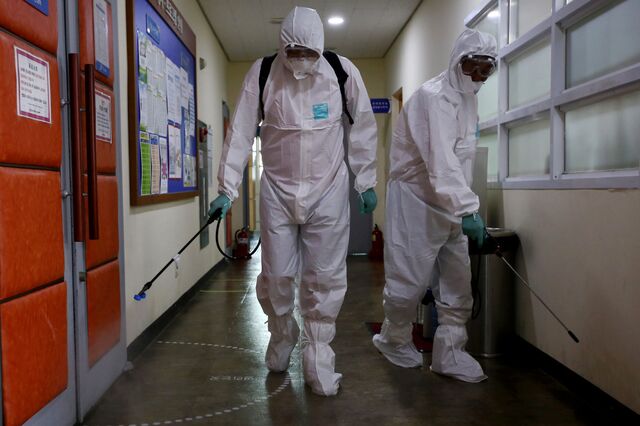 South Korea urged its people to put the outbreak of Middle East Respiratory Syndrome behind them after lifting the last quarantine over a disease that has hurt economic growth and public confidence in President Park Geun Hye.
Since the first reported cases of MERS on May 20, the virus has infected 186 people and killed 36 in South Korea. It prompted thousands of schools to close at one point and led to the cancellation of concerts, trips and other public activities vital to growth in Asia's fourth-largest economy.
"It's O.K. for people to feel safe now," Prime Minister Hwang Kyo Ahn said Tuesday at a government meeting, according to the website of his office. "Please shake off feelings of insecurity over MERS and resume normal daily lives in economic, cultural, leisure and school activities."
On Monday the country released the last suspected patient from quarantine while 12 patients remain hospitalized, the health ministry said in an e-mailed statement. The government faced criticism for its early missteps in dealing with the outbreak, particularly for its initial refusal to name the hospitals involved. Park has since delayed a U.S. trip to restore public confidence and consumer sentiments.
Economic growth slowed to 0.3 percent in the second quarter as the outbreak damped consumer spending, the Bank of Korea said last week. The central bank cut its key interest rate to an unprecedented 1.5 percent in June to shore up the economy.
The outbreak came at a time when banks were lowering growth forecasts and exports were struggling against Chinese and Japanese corporate rivals taking advantage of a weak yen.
Approval Rating
The virus began to spread weeks after the first anniversary of the Sewol ferry sinking that killed more than 300 people, drawing parallels with the government's botched handling of the tragedy. Park's approval rating has stayed between 34 percent and her all-time low of 29 percent since late May, when it stood at 40 percent, according to Gallup Korea.
South Korea's MERS outbreak was the second-largest after Saudi Arabia and almost all of its infections have taken place in hospitals, indicating the virus didn't spread into the community.
Authorities quarantined as many as 6,700 people in mid-June and some affected hospitals shut down either partially or completely to help stem the spread. The government urged people to wash their hands as often as possible and to wear face masks in public. They also disclosed information on hospitals affected by MERS. The spread began to slow due to effective control measures, Keiji Fukuda, assistant director­general of the World Health Organization, said June 13 in a briefing in South Korea.
The World Health Organization advises a country to declare the end of a MERS outbreak after 28 days since the last case tested negative, even though it is up to the country to decide. South Korea has reported no new cases of MERS since July 5.
Before it's here, it's on the Bloomberg Terminal.
LEARN MORE