politics
Scott Walker Accuses Donald Trump of Using Democratic Talking Points to Attack Him
The Wisconsin governor responds to the billionaire's recent criticisms.
By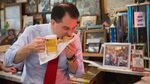 Wisconsin Governor Scott Walker pushed back against attacks leveled at him in recent days by Donald Trump, saying the billionaire is using Democratic attacks to try to throw him off stride in the Republican presidential nomination race.
"He's using the talking points of the Democrats last year," the two-term governor said during a happy hour stop Monday in Chicago. "The public in my state reelected me for the third time in four years because they realized those talking points were not the facts."
Walker, who was aggressively targeted by national Democrats in his re-election bid last year, is the latest Republican presidential candidate to find himself the focus of unwanted attention from Trump, the real estate mogul and reality television celebrity who has upended the Republican race in recent weeks.
"I don't know where he's getting his facts from, other than the talking points of the state Democrats, but we've proven them time and time again to be wrong in elections," Walker told reporters during a stop at the famed Billy Goat Tavern.
The bar, a Chicago landmark for decades, is a popular stop for tourists and locals underneath North Michigan Avenue and sits about 1,000 feet from the Trump International Hotel & Tower.
Walker worked the room, drank half of a Schlitz beer, ate a cheeseburger, signed a baseball and posed for photos.

The confrontation between Trump and Walker first started brewing over the weekend, when Trump, in a speech in Iowa, said Wisconsin had recorded budget deficits and high borrowing on the current governor's watch. "The hospitals and education is a disaster," Trump said.
On Monday, Trump took to Twitter to further criticize Walker, saying that people would not vote for him once they learned how much a "mess" the state is in.
Wisconsin ranked 33rd among U.S. states in economic health improvement during Walker's first term, from the fourth quarter of 2010 through the same period in 2014, according to the Bloomberg Economic Evaluation of States. The state added a little more than half of the 250,000 private-sector jobs that Walker promised during that time, according to estimates released May 21 by the Wisconsin Department of Workforce Development.
"In the end, you guys all have an obsession for the next couple months with somebody else," Walker said of the media and Trump. "That's fine with me. My obsession is with the voters of this great country."
For his part, Walker said he doesn't plan to criticize Trump or other candidates in the field.
"Donald Trump can speak just fine for Donald Trump," he said. "I'm going to tell people what I'm for, not who I'm against."
Walker was also asked whether he favored eliminating the Environmental Protection Agency.
"I think transferring power to the state and local level is more effective, more efficient and definitely more accountable," he said. "Illinois and every other state has the equivalent of the Environmental Protection Agency."
It makes sense to have "some sort of umbrella organization" that could look at "disputes between the states when it comes to environmental protection," he said.
Walker was in Illinois as part of a fundraising and political tour of his neighboring state. He pointed to its March 15 primary and a role it could play in the nomination race.
"With this many great Republicans in the field, this is not going to be wrapped up after just a couple states," he said. "It's probably going to be a couple months in, if not longer, and we're ready for the long haul."
Before it's here, it's on the Bloomberg Terminal.
LEARN MORE