Santos Says Patience Runs Thin as Colombia Peace Talks Drag
Matthew Winkler and Andrew Willis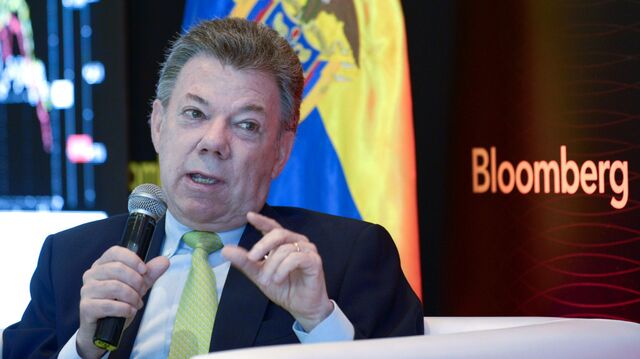 Colombian Marxist rebels need to accept that they must face justice for crimes committed during the five-decade conflict before the public loses faith in the peace talks, President Juan Manuel Santos said.
"It has to be soon, because my patience has a limit," Santos said in an interview at the Bloomberg Colombia Summit in Bogota. "And the patience of the Colombian people has a limit."
Colombia's government has been holding peace talks since 2012 in Havana with the Revolutionary Armed Forces of Colombia, or FARC, to end an insurgency that began in the 1960s. If peace negotiators can reach an agreement on justice, the talks will be "home free," Santos said.
"They'll have to give up their arms and they have to accept some type of justice, otherwise there will be no peace," Santos said, adding that he's confident a deal will be reached.
The FARC this month called a unilateral cease-fire, while Santos announced a halt to bombing raids on rebel camps.
The conflict has an "immense" impact on Colombia's productivity and economy, Santos said. Peace could boost growth by 1.5 to 2 percentage points and would unlock the potential of industries such as agribusiness, he said.
Drillers also stand to gain from lower security costs if a peace accord with the FARC is reached, as well as with greater access to oil-rich areas including the southern Putumayo province, Chief Executive Officer of Canacol Energy Ltd. Charle Gamba said at the event.
Energy Benefits
Shares in Colombia-based oil companies have fallen more than 50 percent in the past 12 months amid the slump in oil prices and continued difficulties in securing environmental licenses. Gamba said he expects to see a consolidation within Colombia's oil sector before year-end.
A peace accord could trigger a migration back to areas of the countryside that people fled during the worst of the violence, Avianca Holdings SA Chairman German Efromovich said at the event. That would call for investment in everything from roads, to schools and hospitals, he said.
Tourism also stands to benefit from a peace accord and the industry has "enormous" potential, Colombian Finance Minister Mauricio Cardenas told the event.
Before it's here, it's on the Bloomberg Terminal.
LEARN MORE