Mapping America's Renters
A new map provides a detailed look at the nation's twofold housing crisis.
By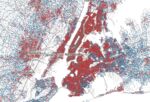 Jobs may be finally recovering following the Great Recession, but housing has a long way to go before it begins to bounce back. The Census Bureau reported Tuesday that the U.S. homeownership rate has declined to 63.4 percent, the lowest it has been since 1967.
A map by the journalist and web developer Ken Schwencke shows just how much the rental market now dominates U.S. cities, even those traditionally defined by high rates of homeownership. "Where the Renters Are" plots 2013 American Community Survey data on who's renting (red dots) and who's owning (blue dots) across the country's census tracts. The dots, each of which represents 25 housing units, are randomly placed within tracts.
In many places, the map affirms what you might expect: Renters are bunched up in urban areas, where the costs and stock of housing make renting logical, while homeowners tend to fill out the suburbs.
But it's notable that even cities in the Midwest and South—where homeownership has been traditionally higher than in the Northeast and West—are watching their rates decline.
A drop in homeownership isn't inherently bad. Homeownership rates can decline alongside economically positive developments—like young people moving out of their parents' homes and into their own apartments. Some studies have shown a link between high rates of homeownership and high rates of unemployment. Elsewhere, high rates of homeownership at low costs mask huge problems with housing stock. Just take a look at the map of Detroit.

However, there is a big problem with the nation's decline in homeownership, and that's the tandem crisis in rentals. Though the number of new rental units has lifted slightly since 2011, the market has barely recovered since the recession. Rents are skyrocketing as a result. About half of all renters pay more than 30 percent of their incomes toward housing. Add a debt crisis on top of that, and you have a nation of people who not only lack the savings to imagine buying a home, but who can't even reasonably afford their current apartment.
Below are more pictures of the housing spread around the country. Check out Schwencke's full map here.
Chicago

Los Angeles

New York City

Minneapolis

San Francisco

Atlanta

Houston