Failed 'Compliment Sandwich' Snags Rare Golf Date With Obama
Angela Greiling Keane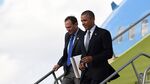 A rare golf date with President Barack Obama for three U.S. House members was sparked by a 2013 meeting in which the president berated one of his golfing companions.
Representative Ed Perlmutter, a Colorado Democrat, invited Obama to play golf with him and two congressional colleagues after he'd challenged the president in a closed-door meeting. Two years later, that golf date occurred when Obama took the three Democrats to play at Andrews Air Force Base.
The foursome may not have happened if Perlmutter, now a fifth-term lawmaker, hadn't dared to challenge the president and suffered the consequences.
"I had just read a 'Psychology Today' article about a compliment sandwich," Perlmutter told Bloomberg reporters and editors on Tuesday in Washington. "A compliment sandwich is usually used by the personnel department to say something nice, then you say something not so nice, then you say something nice to sort of soften the blow to whoever it is you're talking to."
"But I suggest you don't try it out on the president of the United States," the lawmaker said.
While Perlmutter didn't detail what he told Obama that fateful day in 2013, the Colorado Observer reported that he put the president on the spot about his opinion of Lawrence Summers, a former U.S. treasury secretary and Harvard University president whose name was being floated to become chairman of the Federal Reserve.
Golf Invitation
Perlmutter sandwiched the Summers query between thanking the president for his concern about Colorado wildfires and inviting him to play golf.
The Summers question or its tone apparently didn't sit well with Obama, who "just lets me have it for about five minutes, and then he doesn't even mention golf," Perlmutter said. "I was like 'OK, this compliment sandwich didn't work.'"
Perlmutter figured that was it for the golf invite until a month later when he and other Democrats met with the president at the White House about the impending government shutdown.
"He said, 'I did hear your comment about golf,'" Perlmutter recalled. "And he said 'We'll get together, we'll play some golf.'"
The first invitation last year was scuttled because it was for the same weekend as the wedding of Perlmutter's daughter.
"Very few things would trump me playing golf with the president, but my daughter's wedding is one of them," he said.
Courtney, Yarmuth
In May, the White House called and told Perlmutter and Representatives Joe Courtney, of Connecticut, and John Yarmuth, of Kentucky, to keep their June and July weekends free for a presidential golf game. It finally happened July 19.
It was the most social time Perlmutter, who rode on Air Force One last year, had spent with Obama.
"I would say four hours on a golf course is more than just about anybody gets with any president," he said.
He described Obama as a "very good golfer" with a 14 handicap. Obama spends many weekends golfing at military base courses in the Washington area and often tacks on an extra day or two when he travels to Florida or California to hit his favorite courses. Next month, he is scheduled for vacation on Martha's Vineyard, where last year he golfed most days.
Perlmutter said the foursome really didn't discuss congressional business but that Obama told them to "expect a phone call on some other issues" in the future.
(Corrects third paragraph to show Perlmutter is a fifth-term congressman.)
The only business the four discussed was the campaign, parsing strategies that worked and didn't work in 2014, Perlmutter said. Otherwise, he said, they talked about sports, golf and Obama's take on the Broadway show "Hamilton" that he'd seen with his family the day before.
(A previous version of this story was corrected to show that Perlmutter is a fifth-term congressman.)