Dick Grasso Returns to U.S. Stocks, on a Smaller Stage
Jef Feeley, Nick Baker and Ryan Hoerger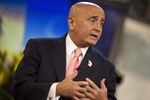 Dick Grasso is returning to the U.S. equity market more than a decade after his ouster from the New York Stock Exchange, this time on a far smaller stage.
The former NYSE chief executive officer is advising a company that wants to create two stock markets based in Wilmington, Delaware, said Chris Bullock, president of the New Castle County Council. The county on Tuesday night approved a $15 million revenue bond to finance the startup. Wilmington, a town of about 71,000 residents, is more than 100 miles from Grasso's former employer in lower Manhattan.
In Wall Street history, there are few celebrities more colorful than Grasso, now 69. He led the Big Board's recovery from the Sept. 11 attacks. He once let a wrestler carry him across the trading floor when World Wrestling Entertainment Inc.'s stock debuted in 1999. The party ended in 2003, when he was undone amid criticism over his $188 million pay package.
"He will serve as a strong adviser to these exchanges because of his experience in New York and his reputation in the financial world," Bullock said.
Stock markets have radically changed since Grasso left. The dominance of the NYSE and its rival, Nasdaq OMX Group Inc., were undercut by regulations that spurred competitors -- opening the door for companies like the Wilmington-based venture. Though both NYSE and Nasdaq handle roughly a fifth of U.S. trading volume, that's a fraction of their former heft.
(Bloomberg LP, the parent of this news organization, operates a stock-trading platform called Tradebook and owns a stake in Bids Trading LP, a dark pool.)
Philly, UBS
Attempts to reach Grasso were unsuccessful. He's joining other former industry officials backing the venue. The effort is led by John Wallace, who used to be CEO of the Philadelphia Stock Exchange. Joe Grano, who ran UBS Group AG's U.S. wealth-management business, is an adviser. Wallace was at Tuesday's county council meeting.
The company, called the Delaware Board of Trade, wants to open two stock markets: a "venture" exchange for small companies and a trading platform that aims to modernize over-the-counter stock trading, according to a statement from New Castle County.
Investors in the venture met with Delaware Governor Jack Markell in May to discuss the proposed markets, Kelly Bachman, his press secretary, said in a phone interview. Grasso didn't attend that meeting, she said.
'Game Changer'
"This is a game changer for the state," Bullock said. "It will be a direct job creator and provide a shot in the arm to both the state and the city of Wilmington."
Although Delaware is one of the smallest U.S. states, its laws give directors wide latitude in managing companies. The judges of its chancery court are known for handing down business-savvy rulings in a timely fashion.
Wilmington is the corporate home of more than half of the U.S.'s publicly traded companies. More than one million legal entities are incorporated in Delaware, which has a population of about 900,000.
The Wilmington News Journal on Monday reported the proposal by the Delaware Board of Trade.