Consumer Confidence in U.S. Drops by Most Since August 2011
Erin Roman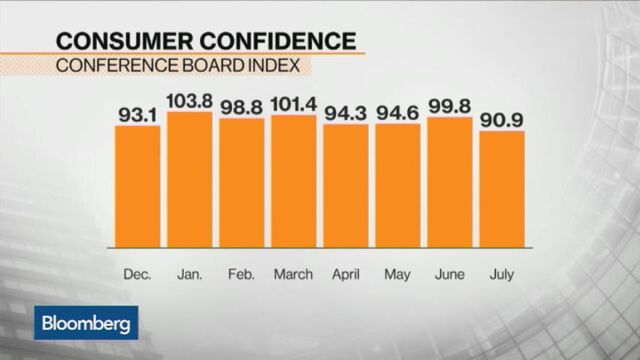 Consumer confidence slumped in July by the most since August 2011 as Americans grew less upbeat about prospects for the economy, employment and their finances.
The Conference Board's index retreated to 90.9 from June's 99.8 that was weaker than initially reported, the New York-based private research group said Tuesday. The July reading was lower than the most pessimistic forecast in a Bloomberg survey of economists.
Worker pay increases that barely exceed inflation are limiting household sentiment about their financial situations, indicating consumers may be less inclined to splurge. Swings in stock prices stemming from the Greek financial crisis and weakness in China are also taking a toll on Americans' attitudes, the Conference Board said.
"It's a bit of a surprise and may prove a little erratic," said David Sloan, senior economist at 4Cast Inc. in New York. "If the stock market weakness recently extends further, a turnaround might be harder. But energy prices have slipped and that could give some support to consumers."
The July reading was the weakest in 10 months. It also marked the biggest negative surprise since February 2003. The Bloomberg survey median called for a decline to 100, with estimates ranging from 97 to 103 after a previously reported June reading of 101.4.
In January, the index rose to 103.8, the highest since August 2007. The Conference Board's measure averaged 96.9 during the last expansion and 53.7 during the recession that ended June 2009.
Another report Tuesday showed home prices in 20 U.S. cities increased at a slower pace. The S&P/Case-Shiller index of property values climbed 4.9 percent in the 12 months ended in May after a 5 percent year-over-year gain a month earlier.
Lower Expectations
The Conference Board's gauge of consumer expectations for the next six months slumped to 79.9 in July, the lowest since February 2014, from 92.8 in June
The measure of present conditions fell to 107.4 in July from 110.3. The share of Americans who said business conditions were good decreased to 24.2 percent, the lowest since September, from 26.1 percent.
"A less optimistic outlook for the labor market, and perhaps the uncertainty and volatility in financial markets prompted by the situation in Greece and China, appears to have shaken consumers' confidence," Lynn Franco, director of economic indicators at the Conference Board, said in a statement.
Job Market
Americans' assessments of current and future labor-market conditions deteriorated. The share of those who said jobs were plentiful dropped to 20.7 percent in July from 21.3 percent.
The proportion of consumers expecting more jobs to become available in the next six months decreased to 13.1 percent, the lowest since November 2013, from 17.1 percent in June.
Stock-market volatility weighed on income expectations. The share of respondents who anticipated a decrease in their incomes six months for now rose to 11.2 percent, the highest since October.
Other Measures
The Conference Board's report corroborates other readings on sentiment. The University of Michigan's preliminary index fell in July on concerns that global risks will dim prospects for the U.S. after reaching a five-month high in June.
The Bloomberg Consumer Comfort Index declined in the week ended July 19 for the third straight time, after three consecutive gains in June, as views of the economy became more downbeat.
Higher living costs and scant signs of a bigger pick up in wage growth are weighing on confidence. The cost of living rose in June for a fifth month, paced by increases in rents. The consumer-price index climbed 0.3 percent after a 0.4 percent May gain, Labor Department figures show. Costs over the past 12 months advanced for the first time this year.
Average hourly earnings at private employers were little changed in June. They increased just 2 percent over the 12 months ended in June, in line with the average since the current expansion started in 2009.
Nonetheless, employers are confident enough to keep boosting headcounts. Payrolls rose 223,000 in June after a 254,000 increase a month earlier.
Purchase plans were generally positive in July, according to the Conference Board. Intentions to buy homes and appliances increased.