Are Voters Ready to Cast a Vote Against the Supreme Court?
With an unprecedented four justices turning 78 or older by Election Day, the next president will be in prime position to reshape the court.
By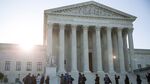 Presidential candidates of both parties have been routinely blasting the U.S. Supreme Court on the campaign trail. Whether it will ultimately bring them more votes is another matter.   
While Democrats pound on the court for rejecting campaign finance regulations, Republicans are seizing on last month's Obamacare and gay-marriage rulings as evidence the court needs an overhaul.
The Constitution "was written for the purpose of hemming in government, not growing it," Republican Senator Marco Rubio of Florida said in Iowa this month. "And we have at least five people on the court who consistently feel differently. We have to change it."
The next president will be in prime position to reshape the court. Barring an unexpected death or retirement, an unprecedented four justices will be 78 or older come Election Day. That all but guarantees a vacancy, if not several.
Those appointments could transform the closely divided court. Replacement of a liberal justice with a conservative could doom abortion rights and affirmative action and put new curbs on federal power. A shift the other way could overturn the 2010 Citizens United decision, a campaign-finance ruling described as a "grave error" by Democrat Hillary Clinton.
"I will do everything I can to appoint Supreme Court justices who protect the right to vote and do not protect the right of billionaires to buy elections," Clinton told activists in Iowa in May.
The challenge for the candidates will be getting the attention of apathetic voters. The court hasn't been a major campaign issue since 1968, when Richard Nixon held himself out as the law-and-order candidate, criticizing pro-defendant rulings issued by the Supreme Court under Chief Justice Earl Warren.
"There's often a building up of expectations that this will be the presidential election where court issues and constitutional issues will matter,'' said David Yalof, a political science professor at the University of Connecticut who specializes in constitutional law and judicial politics. "But modern history says the opposite. Rarely do constitutional issues come up.''
That hasn't stopped candidates on both sides from trying. Like Clinton, Democrats Bernie Sanders and Martin O'Malley say they'll insist that their Supreme Court nominees oppose Citizens United, the ruling that allowed unlimited corporate and union campaign spending. Among Republicans, Ted Cruz has gone so far as to say the nine justices should be subject to retention elections.
"The next president of the United States, whoever that individual may be, could choose up to three, maybe even four members of the Supreme Court," former Texas Governor Rick Perry told voters in South Carolina. "This could be about individuals who have an impact on you, your children, and even our grandchildren. That's the weight of what this election is really about."
Justice Ruth Bader Ginsburg, an appointee of Democratic President Bill Clinton, will be 83 when voters go to the polls in November 2016. Two nominees of Republican President Ronald Reagan, Antonin Scalia and Anthony Kennedy, will both be 80. Another Clinton appointee, Stephen Breyer, will be 78.
"Given the hugely outsize role the court plays in contemporary American politics and society, the question of who will replace these justices when they retire is a huge one,'' said Robert George, an influential conservative thinker who teaches constitutional law at Princeton University.
Republicans have turned against the court in the aftermath of the health-care and marriage cases. In a Gallup poll this month, the court's approval rating among Republicans plummeted to 18 percent, 11 percentage points below the previous low in 2012. Support among Democrats was at 76 percent, up from 47 percent in September.
Overall, the court's approval rating was 49 percent, below the 52-percent average in Gallup polls dating back to 2000. Another poll, conducted this month for C-SPAN by Penn Schoen Berland, found that almost 2 in 3 Americans view the court as being split on political grounds, much like Congress.
Republicans will be able to use some key decisions by the justices to energize core conservatives, says David O'Brien, a political science professor at the University of Virginia. He sees parallels to the 1980s, when President Ronald Reagan invigorated the party's base with his opposition to the Roe v. Wade abortion-rights ruling.
"It's going to be a driving force for the Republican candidate, whoever that is, because of the evangelical Christians in the Republican Party and conservative Republicans who oppose not only Roe v. Wade but now Obergefell,'' the gay-marriage ruling, O'Brien said.
The court is likely to play a bigger role in the Republican primary than in the general election, as potential nominees try to generate enthusiasm and distinguish themselves in a crowded field.
George says he would like to see that debate go beyond the primary, with the Republican nominee making the case that the court has overstepped its constitutional bounds on issues like abortion and gay marriage.
"I'd like the matter debated not just on the substantive issue, though that's important, but also on the question of the impact of the rulings on American constitutional democracy,'' said George, who questioned five Republican candidates on the subject at a forum in 2011.
The problem is that a president's impact on the court may not be felt for years or even decades, Yalof says. Voters tend to focus on issues that have more immediate consequences.
"It's tough for them to see the impact that the presidential election will have on the court for years to come,'' Yalof said. "It will have a significant impact but it's not in the time frame that most voters are thinking about.''