Technology
All the Details on Motorola's Revamped Moto X and Moto G Smartphones
The brand showed off the new technology in its flagship phones, including a powerful camera and improved battery life
By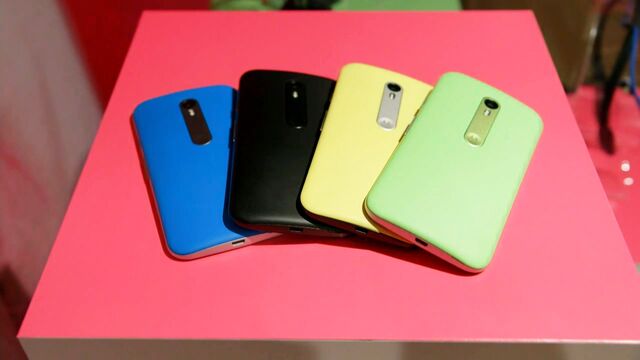 On Tuesday at a trio of press conferences in New York City, London, and Sao Paolo, Motorola announced major updates to its line of Android smartphones. Both the flagship Moto X and lower priced Moto G received overhauls, the first since Motorola was acquired by Lenovo from Google in October 2014. There are now three phones, the Moto X Style, Moto X Play, and Moto G, offering everything from a true flagship to a budget-conscious option. 

The new Moto X Style is larger than last year's Moto X and has significantly boosted specs in almost every regard. Most notably, the display is 5.7 inches instead of 5.2 inches, with QuadHD resolution. It's big and bright, with slim bezels so the phone isn't the size of a tablet. The curved back also helps keep the phone from feeling too big. It's much bigger and much bolder than last year's Moto X, while still looking very much part of the same family. Turbo charging is another big new feature, letting the phone juice up quickly.
But the biggest question? The camera. The 2014 Moto X's camera wasn't even close to competing with those in the iPhone 6 and Galaxy S5, the other high-end phones of last year. The Moto X Style upgrades from a 13-megapixel camera with a faux ring flash to the 21-megapixel shooter with a smaller flash sitting just below the lens. From what Motorola showed at its press conference, the camera looks like a major step up. But whether it produces sharp images with good color—on a regular basis and in all sorts of lighting conditions—will be the test by which the Moto X Style succeeds or fails.
There's also a second version of the Moto X, the Moto X Play. It houses the same 21-megapixel camera and dual LED flash, but with a smaller 5.5" full HD display (1080p). It's also going to cost $100-200 less than its big brother and Motorola is saying it can achieve a full two days of use from the large battery. This seems like the true successor to last year's Moto X, while the Style edition pushes Moto into a new tier of flagship phone. However, in a baffling move, Moto has not plans to make this phone available in the United States.

Motorola also updated the more budget-conscious Moto G. It has an HD display, the same 13-megapixel camera that's in Google's Nexus 6, and a fast processor, plus it's water resistant and storage can be expanded by up to 32GB via a microSD card slot. The Moto G can also now be custom ordered through the Moto Maker program, letting customers choose different color backs, faceplates, and storage options. It's not quite as powerful as either of the Moto X phones or other flagships like the Samsung Galaxy S6, nor is the display as good, but it's extremely close for a phone that costs less than one third the price. 

The Moto X was originally conceived while Motorola Mobility was owned by Google. These first phones under Lenovo don't show too big a departure by the new owner from the original strategy and rubric, because they are apparently working: according to Motorola president Rick Osterloh, sales are up 118% in the last year. There's a high-end flagship phone, a budget-conscious phone that won't slow you down, and a middle ground for people who want top specs without a massive 5.7" display.
The Moto X Style is priced from $399 and the Moto G from $180. All the new phones come unlocked for use on any carrier and ship with Android 5.1.1 Lollipop installed. The Moto G is available worldwide from today and the Moto X Style in September, while the Moto X Play will hit select markets in August.
Before it's here, it's on the Bloomberg Terminal.
LEARN MORE