Teva CEO: $40.5 Billion Deal Is Just the Beginning
Cynthia Koons and David Wainer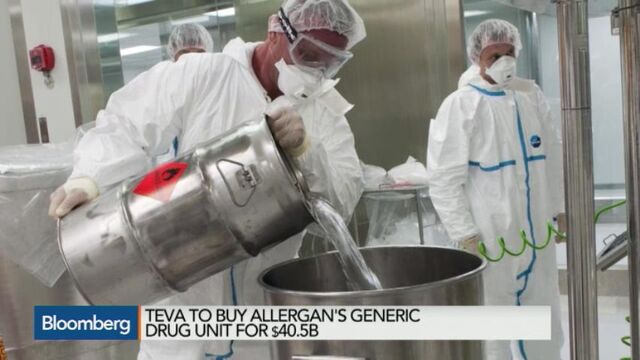 Teva Pharmaceutical Industries Ltd.'s chief executive officer doesn't see his $40.5 billion deal to acquire Allergan Plc's generic unit as the end of the company's deal-making.
"The industry has been undergoing a huge change that's maybe the most profound disruption that the pharma industry has been witnessing," CEO Erez Vigodman said in an interview Monday. "You cannot sit still."
Drugmakers have announced a record $220.7 billion worth of mergers and acquisitions so far this year, including the Teva-Allergan deal. There will be more, Vigodman said, and Teva will be at the table.
The Israeli drugmaker has the ability to keep making purchases for specialty pharmaceuticals this year and next, he said. Teva's priorities are for drugs to treat movement disorders and neurodegenerative diseases, and therapies for or respiratory ailments, pain and migraines. "Also, we look at opportunities to execute against our priorities in the generic space, especially in the growth markets," he said.
One prize he won't get is Mylan NV. Teva gave up on its hostile pursuit of the generic drugmaker Monday, as it agreed to buy Allergan's generic unit.

The Allergan purchase will make Teva the world's biggest maker of generic drugs, and may also raise questions about whether consolidation will raise prices for consumers. The National Community Pharmacists Association surveyed about 700 members earlier this year and found that almost all pharmacists experienced a "large upswing" in the cost of buying generic drugs in the prior six months. About 80 percent of respondents experienced price spikes at least 26 times -- equivalent to once a week.
Such price increases aren't reflective of what's going on in the industry as a whole, Vigodman said.
"Look at the last seven years, what you see is an erosion of generic drug prices by 50 percent," he said. "We believe given the inefficiencies, overcapacity in the generic space, the space calls for transformation."
Read this next: