Garbage Pile Protests Lay Bare Lebanon's Deep Political Division
Donna Abu-Nasr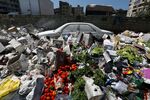 Demonstrators closed roads and picketed in front of Lebanon's parliament on Monday to protest the government's inability to dispose of garbage piling up in Beirut, a crisis exposing the country's political deadlock.
Four policemen were wounded on Monday trying to disperse protesters in Jiyyeh, south of the capital, who had blocked a major highway to prevent the disposal of trash in the area, the official National News Agency said. Three demonstrators were injured, the Daily Star newspaper reported, citing the mayor of Barja village, Nashaat Hamiyeh. The road was reopened at midday.
Trash piles have been mounting since July 17, when Beirut's main landfill was closed before officials had agreed on an alternative site, and the issue is being used by politicians as a proxy for broader struggles, lawmaker Emad al-Hout said in an interview. Political paralysis in Lebanon has prevented the election of a head of state since President Michel Suleiman's term ended in May 2014.
"This crisis reflects mismanagement by successive governments, deep political divisions and attempts to weaken the state," said Hout, who represents the Islamic Group. About 20 party members held placards that read, "If you can't solve the trash problem, how can you solve the country's issues?"
Divisions among Lebanon's main political parties have deepened since Syria's civil war began in March 2011, with some supporting the government of Syrian President Bashar al-Assad, an Iranian ally, and others favoring Saudi Arabia-backed rebels.
The cabinet, scheduled to meet on Tuesday after failing to find a solution last week, has been locked in a dispute with the Free Patriotic Movement, an ally of Iranian-backed Hezbollah, over security appointments and the cabinet's decision-making mechanism in the absence of a president.
'National Disaster'
The garbage crisis is a "national disaster" that will have "very serious" consequences if the protests get out of control, the Assafir newspaper cited Prime Minister Tammam Salam as saying.
The protests south of Beirut were set off when the government decided to send trash to dumps in Lebanon's southern Iqlim al-Kharroub region. The highway linking Beirut to the area was reopened only after residents received assurances that the government had abandoned the plan, LBC television reported. It wasn't clear where the garbage will be taken instead.

Meanwhile, it rots on the streets with the summer temperatures above 30 degrees Celsius (86 degrees Fahrenheit), forcing mask-wearing residents to burn the waste themselves.
In the Tareek al-Jadideh neighborhood, a car was set alight when trash covering it was burned, according to local resident Bilal Saadeh, 25, an IT administrator.
"Is this really what's happening in a country we consider as one of the best in the Arab world?" said Hassan Ibrahim, a Qatari government employee visiting Lebanon for the first time in eight years. His Lebanese wife's relations are apologizing to him every time they drive past garbage piles, he said.
Read this next: