Philips CEO's Health-Care Push Boosted by Rising U.S. Sales
Elco van Groningen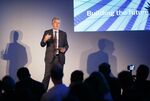 Royal Philips NV reported booming demand for its North American medical business, lending support for Chief Executive Officer Frans van Houten's plan to split the company in two to focus on the consumer health-care market.
The stock surged as much as 5.4 percent after the Dutch company reported better-than-estimated second-quarter earnings, on demand from hospitals for clinical data-analysis equipment and rising sales of imaging systems. In North America, where Philips generates more than one third of its business, sales rose 3 percent.
"It seems that in the U.S. health-care market, they've got things back on track," said Hans Slob, an analyst for Rabobank in Utrecht. The U.S. is particularly important to the company because it's much bigger than other markets, he added.
The CEO is betting the future of the 124-year-old company on the $125 billion health-care market as he predicts booming demand for technology that allows hospitals to analyze clinical data and patients to monitor health and nutrition on smartphones. While he's creating a business that brings together products such as medical scanners and toothbrushes, he's separating the lighting division.
Turning Point
The deal marks a turning point for Philips, which has sold lighting products since its founding in 1891, as the CEO scales back a company whose product range once spanned vinyl records, televisions and mobile phones. The separation of the unit, the world's biggest maker of lamps and bulbs, mirrors Munich-based Siemens AG's move in mid 2013 to spin off Osram Licht AG, as an industrywide shift toward more-efficient light-emitting diodes intensifies competition.
Adjusted second-quarter earnings before interest, taxes and amortisation rose 27 percent to 501 million euros ($550 million), the company said in a statement Monday. That compares with an average analyst estimate of 415 million euros.
Comparable sales at the health-care and consumer lifestyle units rose 8 percent and 3 percent respectively in the second quarter, while dropping 3 percent at the lighting business.
Philips shares gained as much as 1.30 euros, the biggest gain since Oct. 2013, and were up 4.1 percent as of 12:11 p.m. Before today, the stock had risen 6.5 percent since van Houten took over in April 2011, valuing the company at 23 billion euros. The Dutch AEX benchmark index has gained 33 percent in that time.
Hospital Deals
Philips in June won a $500 million order to supply equipment to New York-based Westchester Medical Center, and the company needs to get more of those long-term contracts to show that Van Houten's strategy is working.
"While we are pleased with our progress overall and our health-care performance in the U.S. in particular, we are increasingly concerned about the global macro-economic environment, particularly in China, Russia and Latin America," the CEO said.
Chief Financial Officer Ron Wirahadiraksa said he predicts the global health-care market to grow by a low single-digit percentage this year.
For its new company, focusing on the so-called HealthTech market, Philips targets a margin of 14 percent to 15.5 percent, based on earnings before interest, taxes and amortisation. That number, last updated in January, excludes costs tied to its companywide innovation, group and services division. The company plans to give more details at its capital markets day in September.
Philips, which predicts to complete the separation of the lighting business in the first half of 2016, said Monday it now expects the move to cost 200 million to 300 million euros in 2015 and the same amount in 2016. The company previously predicted the separation costs would amount to 300 to 400 million in 2015, without giving an estimate for 2016.
l
Before it's here, it's on the Bloomberg Terminal.
LEARN MORE